Capcom Beat 'Em Up Bundle under test
Retro is currently fully in line with the trend. While hardware manufacturers are very successful in bringing various mini editions of old consoles and home computers to the public, software producers are releasing their old classics on modern platforms. Capcom also jumps on this bandwagon and brings together a whole collection of beatings in the Capcom Beat'em Up Bundle. Is this journey into the past worthwhile or does the nostalgia glasses once again colour everything a little rosier than it really is?
A typical Beat 'em up is characterized by the following game elements: Vertically or mostly horizontally scrolling levels in which one or more players have to fend off opponents. Unlike Jump'n'Run Games, there are few or no skill interludes here, but the fighting aspect is in the foreground – hence the name Beat 'em up. Although Kung-Fu Master from the developer studio Irem is regarded as the founder of the genre, it only became really popular when Taito released the game Double Dragon for arcade machines in 1987. The following decade belongs to the "golden era" of Beat 'em up games and has produced such classics as Golden Axe (Sega) or Teenage Mutant Ninja Turtles (Konami).
The Japanese video game developer Capcom was a company that played a major role in shaping this age. She is responsible for some very well-known genre representatives. They have combined seven of them in the Capcom Beat'em Up Bundle collection and spiced them up with several multiplayer options, online modes and bonus material such as additional galleries.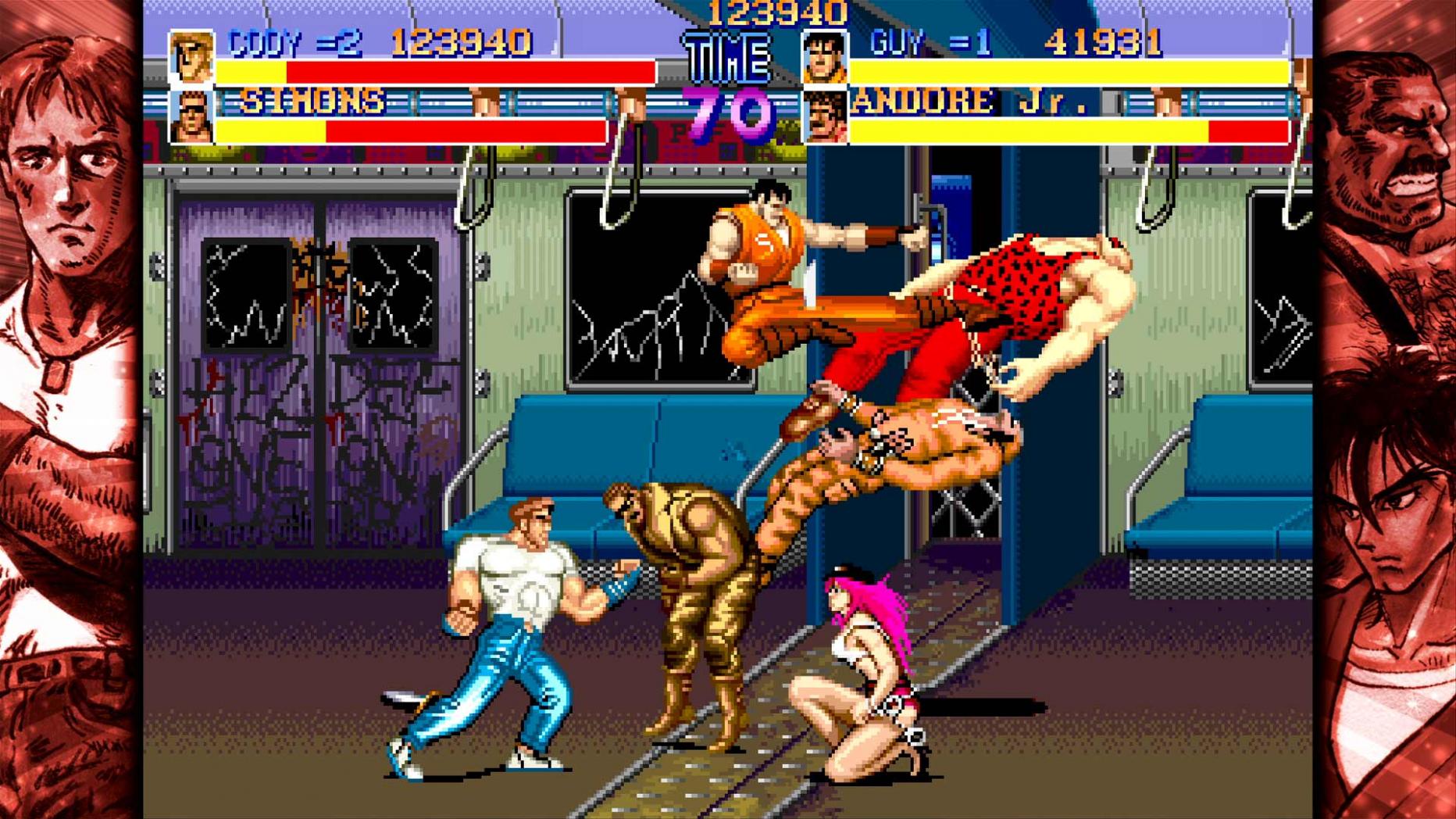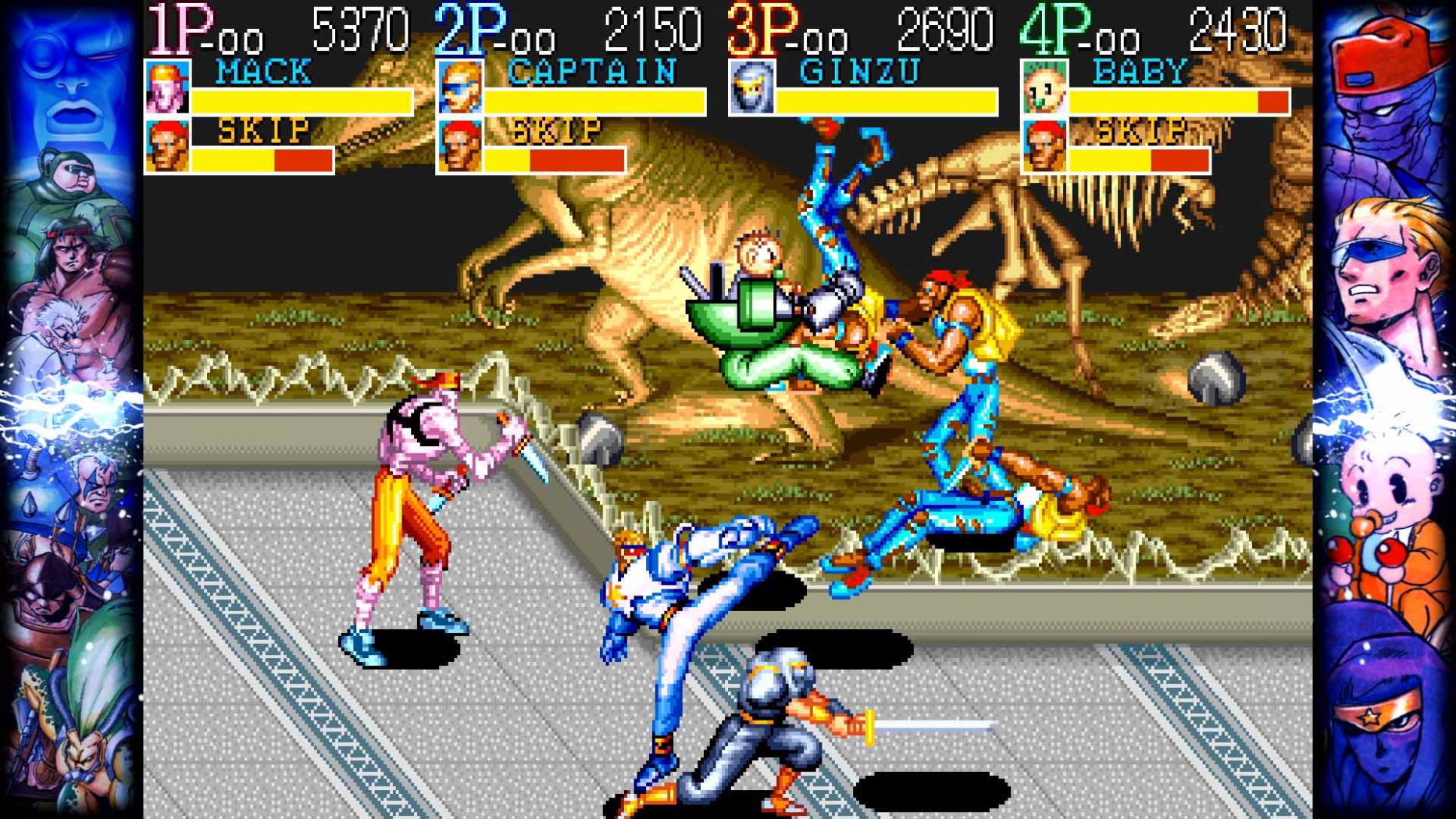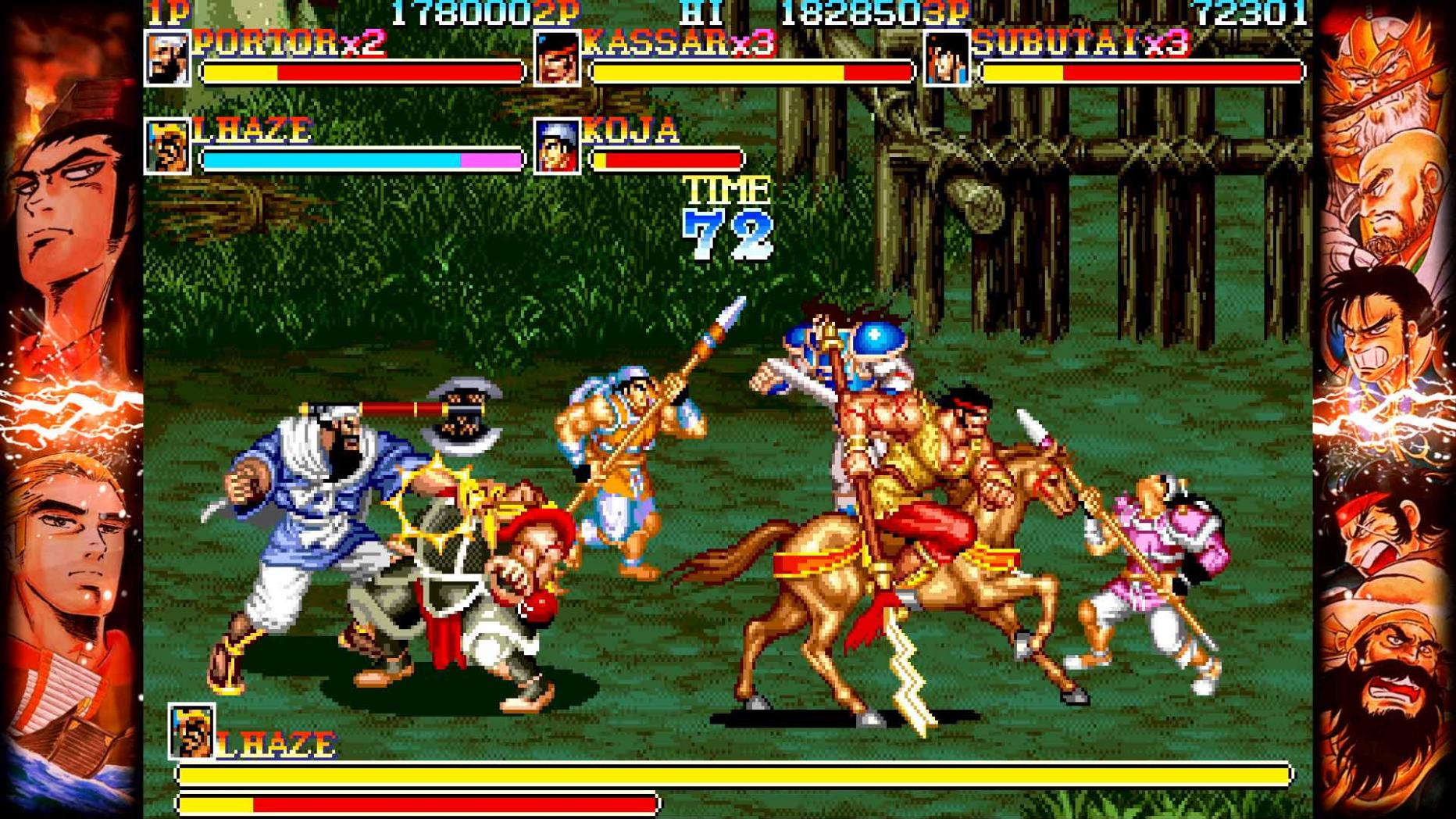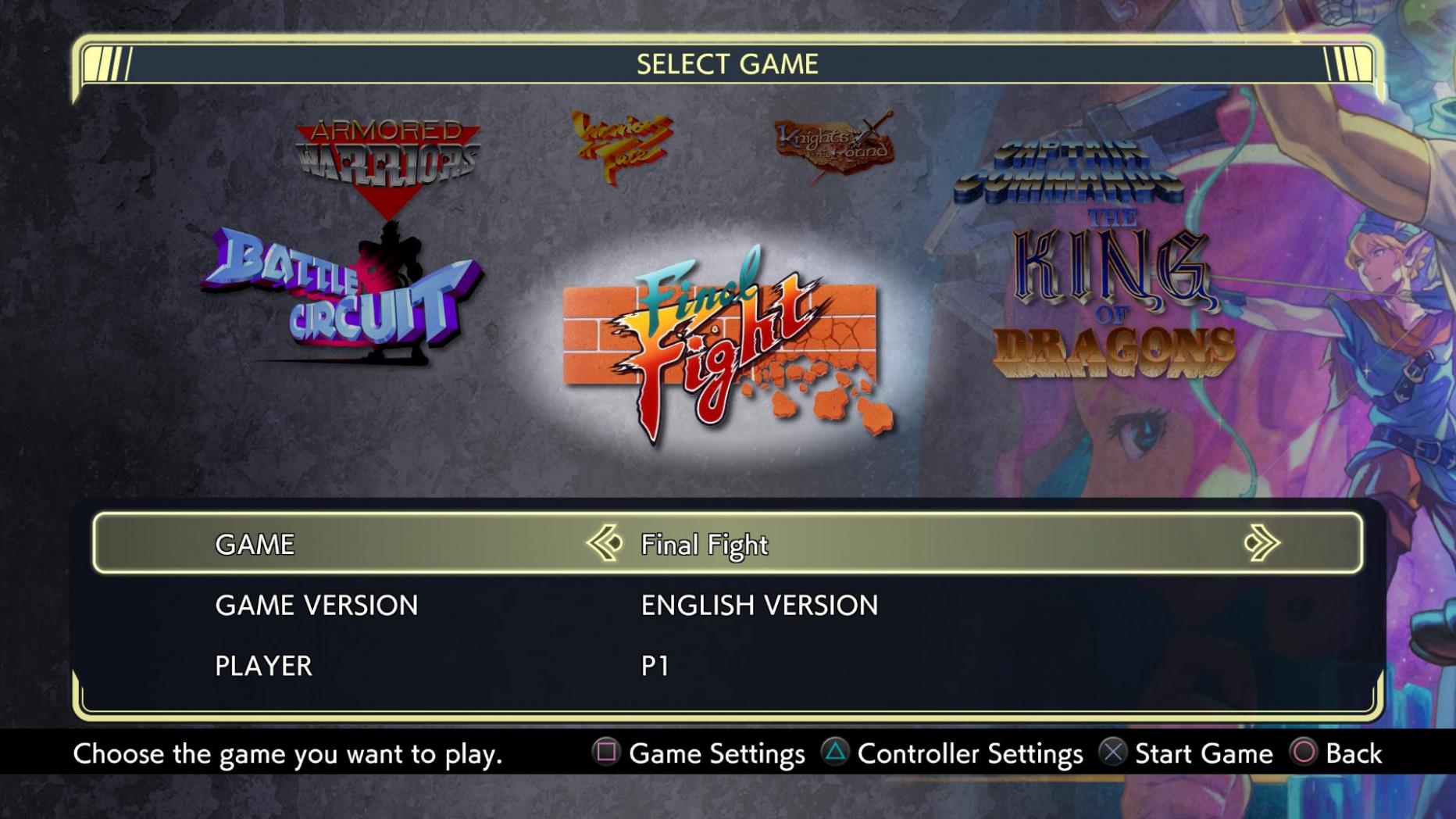 One manufacturer, one genre, seven games
The best-known representative in the collection is definitely Final Fight. This one was released about two years after Double Dragon and is not only based on it playfully, but also on the background story. Here it is the daughter of the former wrestler and now mayor of Metro City, Mike Haggar, who was kidnapped by the dreaded "Mad Gear Gang". Together with their boyfriend, the street fighter Cody, and the American Ninja Guy, they go on a search for Jessica. Typically in this genre you move from left to right, can fight with fists and feet, but also use weapons, such as knives or iron bars, to beat the opponents – optionally together with a fellow player. There are a total of six different levels, each with a boss opponent waiting at the end.
Captain Commando is a spin-off of Final Fight. It plays again in Metro-City, but in a futuristic future. There are four different characters and the player limit has been increased by the same number. In terms of gameplay and control, however, it hardly differs from its indirect predecessor.
The King of Dragons is located in a fantasy world and the task of the players is to defeat the Red Dragon. For the first time, role-playing elements have been added, because the five different character classes (Warrior, Elf, Dwarf, Monk, and Wizard) not only have different abilities, but can also be upgraded step-by-step to improve their attributes such as health or attack strength. Up to three players can compete here together and apart from the mentioned special features, The King of Dragons is a typical genre representative. Also Knights of the Round is located in the mythological Middle Ages and takes care of the legend of King Arthur. There are three playable characters with Arthur, Lancelot or Perceval and the gameplay is based on those of the genre colleagues. A new feature is the horse. At predetermined points in the game, the characters can mount a mount and fight their opponents on horseback. But the horses themselves can also step on enemies by pressing the joystick forward twice.
Warriors of Fate is based on the Manga Tenchi wo Kurau and belongs to the Dynasty Wars series. In total, the Shu Han's Five Tiger Generals can be selected and up to three players can try to defeat the evil ruler Akkila-Orkhan at the same time. Here, too, you can call a warhorse at the push of a button, which gives the characters more attack strength, for example.
The two titles Armored Warriors, as well as Battle Circuit shone so far on consoles and home computers through their absence and were up to now only reserved for arcade visitors. Both have a futuristic setting and can show some innovations. In the first one one controls for example Mechs, which one can improve with various individual parts. There are also various missions to complete in the levels, such as not exceeding a time limit or eliminating a varying number of enemies. In Battle Circuit, up to four players can compete simultaneously, each controlling one of five characters. So-called "Upgrade Discs" can be used to improve skills, and special, shared team attacks allow for very high damage attacks.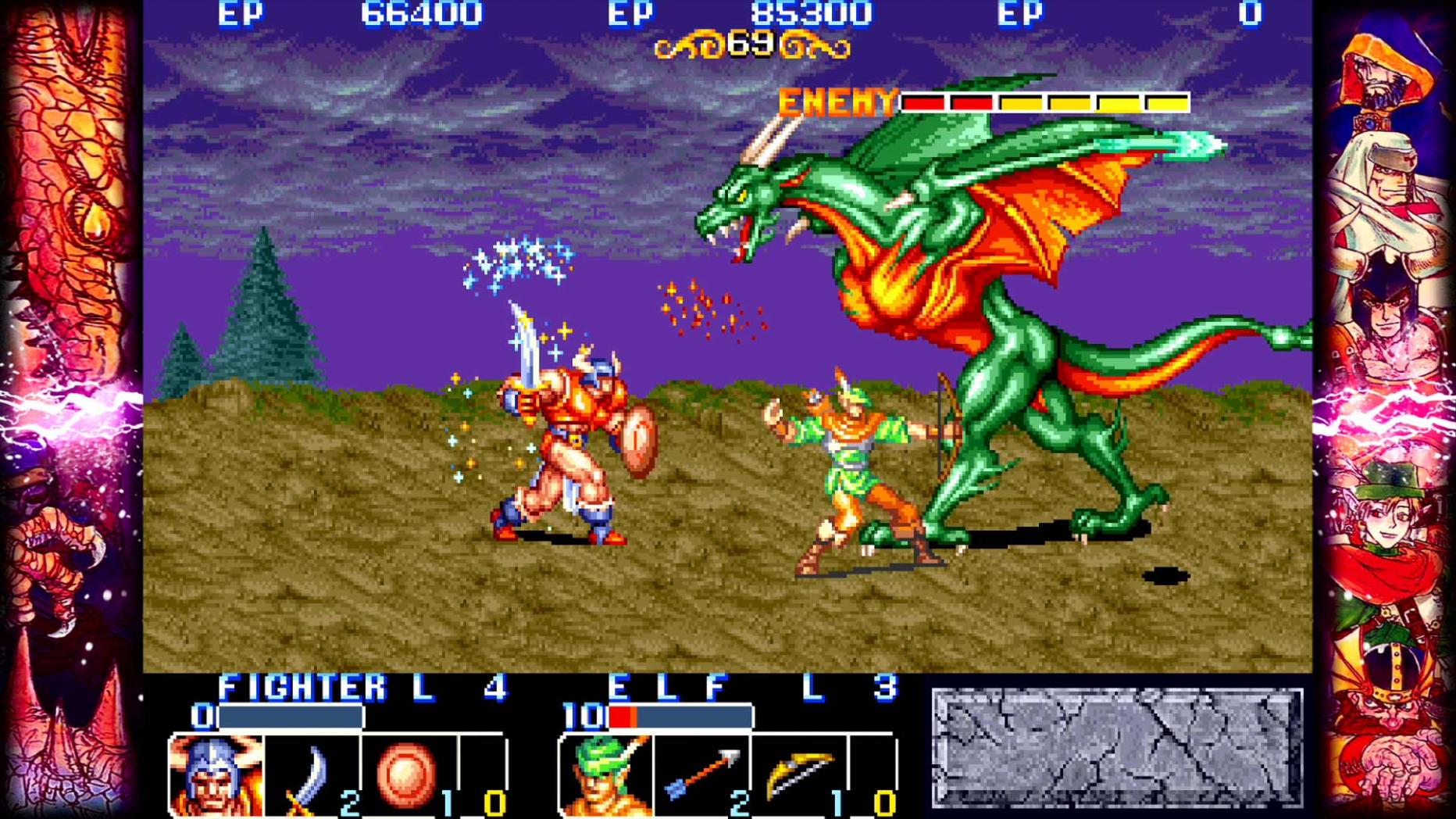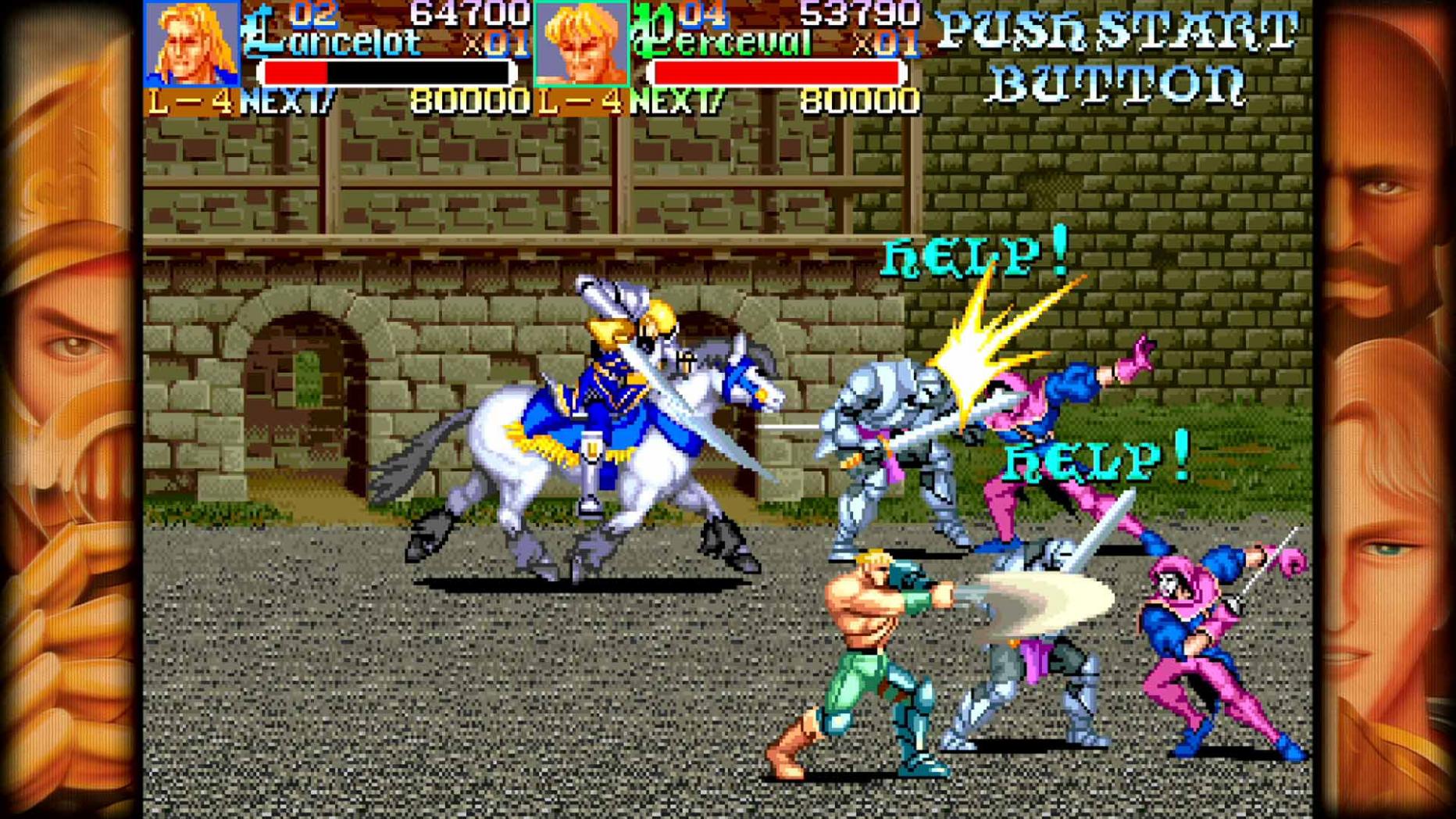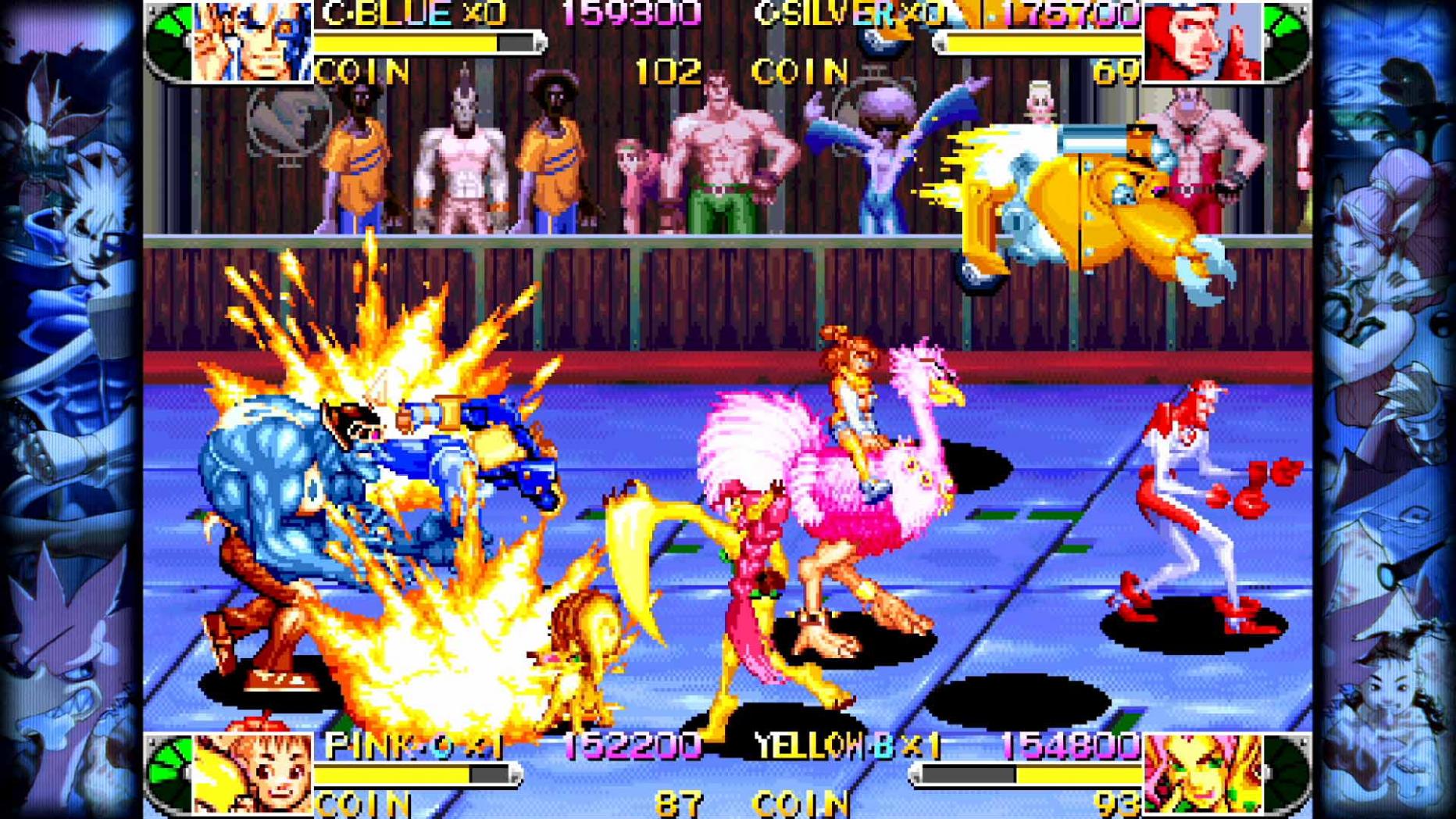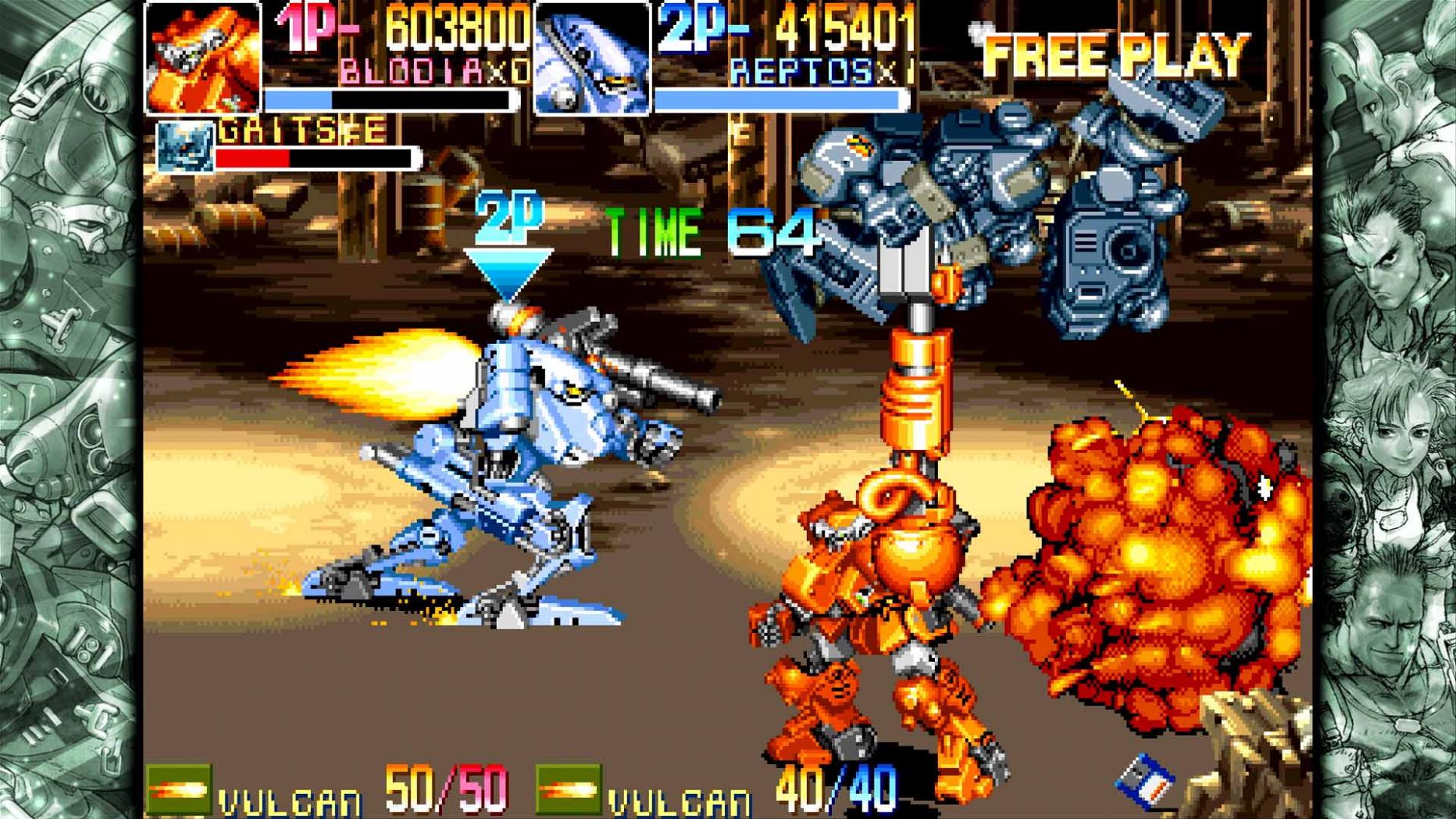 The emperor's new clothes
The differences in play between the individual titles are only marginal – more or less you get always the same game presented in a different graphic costume. When it comes to optics and sound, the game is very close to the originals – without any noticeable improvements – and the game is presented in a pixelated 4:3 image, framed by interchangeable backgrounds. Innovations can be found especially in the multiplayer area, because for the first time it is also possible to play together in an online mode. Unfortunately, the different lobbies are very sparsely filled and so the formation of a game is rather a happy coincidence. Another new feature is the adjustable difficulty level, where you can determine continuities or number of lives. So if you want to do without the typical arcade feeling, you can play through all seven games in just a few hours with an infinite amount of coins without any problems.
FAZIT
My luck, that 25 years ago I couldn't play any of these games in an arcade near me, because my wallet probably wouldn't have recovered until today. Nowadays, however, I seem not only to have become more demanding, but also, as an avowed retro lover, more cautious if someone wants to score with the nostalgia bonus. With Capcom Beat'em Up Bundle this reservation is quite appropriate, because although the genre has naturally evolved, the individual titles in the collection offer pure old-school gameplay – in both a positive and negative sense. Especially the example of Final Fight, which gave me sleepless nights on the Commodore Amiga, clearly shows that the game mechanics and the sometimes very simple control options are outdated nowadays. In addition, due to the adjustable degree of difficulty, the playful demand is almost zero. My personal highlights of the collection are Armored Warriors and Battle Circuit, but not so much because of their playful qualities, but because I've never tried them before because of their arcade machine exclusivity. Since the bonus material is also manageable and you can hardly find other players despite online mode, you really have to be a very big genre lover to be able to deal with the bundle in the longer term.
What is Capcom Beat 'Em Up Bundle?
A collection of seven Beat 'Em Up classics from the house of Capcom
Platforms
: PC, PS4, Xbox One, Nintendo Switch
Tested
: PS4
Developer / Publisher
: Appeal / BigBen Interactive
Release
: 09/18/2018
Link
: –