Super Smash Bros. Ultimate Gameplay
With Super Smash Bros. Ultimate one of the most expected games for the Nintendo Switch has been released. The cult Beat ´em Up game, which fought its way into our hearts for the first time at the N64 in 1999, returns to our screens more extensively and larger than ever before. Nintendo has promised ultimate gaming fun and, in my opinion, released its strongest Switch title, after The Legend of Zelda: Breath of The Wild, since the console's release.
Just get out of here!
In contrast to other beating games, for example Mortal-Kombat, it's not the goal to rob your opponent of his life energy with blows, but with Super Smash Bros. Ultimate you have to beat so long on your opponents, until they are thrown out of the picture . With a corresponding indicator you can see how much damage you have already dealt or taken and how effective the next blow will be. At the beginning of a fight, when you have suffered little damage, the attacks of the opponents are not too dramatic, but with increasing percentage each kick can mean the end.
An ultimate selection of help items and power-ups that appear during your battles – fire-spitting flowers or Poké Balls with helping Pokémon in them – do heavy damage . Unlike most beating games, you don't have to learn a lengthy combos, but instead trigger a powerful special attack by moving the stick in one direction and pressing the attack key, in addition to simple attacks. With the help of double jumps you have the possibility to dodge the attacks of your opponents and after a violent blow, maybe find your way back to the platform.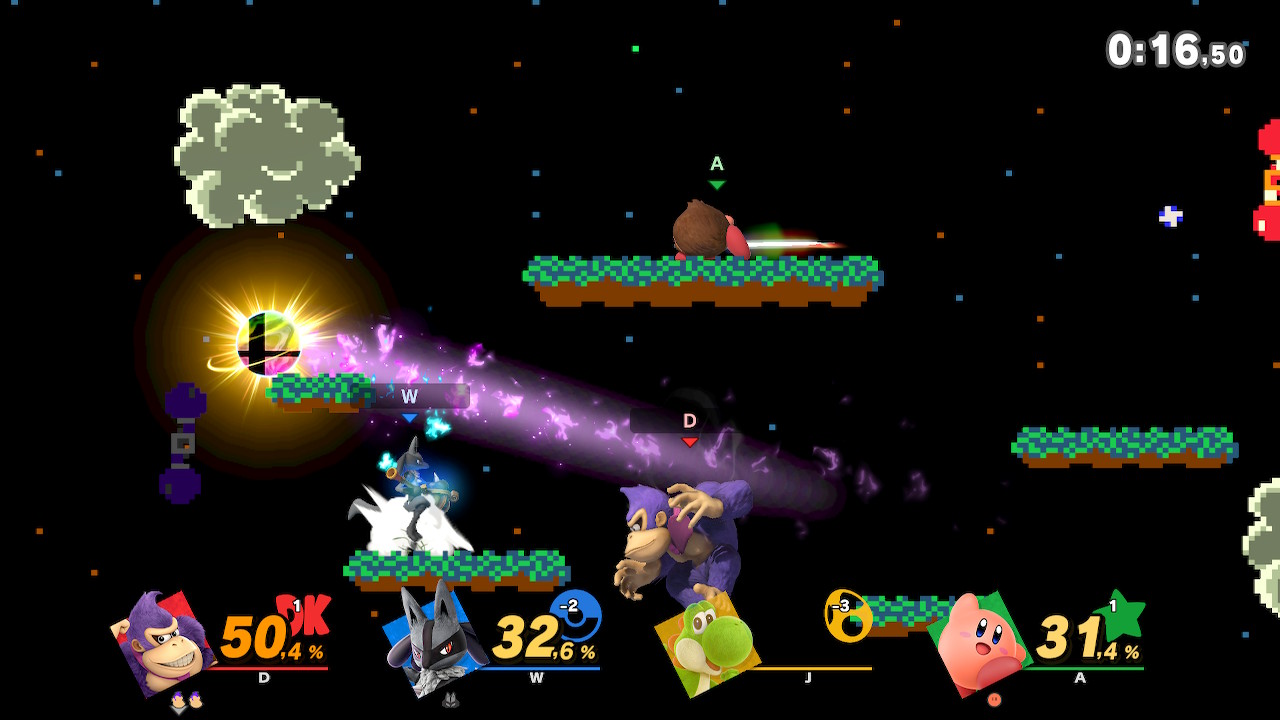 You can gain a big advantage by using items.
ring free
Fighting takes place in so-called stages, which take place in familiar settings from various game series. For example, you can play in the Mushroom Kingdom, Hyrule or Kirby's Dreamland matches. All in all you have a choice of more than 100 arenas, from well-known classics that have been re-polished or completely new areas. In addition, you can choose to play each of the stages as a Battleground or Final Destination version, where you will have fewer options. If you're a fan of surprises, then the Stage Change or the Dynamic Stages are the best choice for you, as they include changes of location as well as random events like shape changes and make you sweat a lot.
However, even on the platforms in regular settings you are not sure, because they move sometimes or disappear completely. For each of the arenas you can individual settings, such as the number of available items, helpers to help you and music played. You can even adjust the difficulty level in the middle of a game. Especially the new arrangements of the well-known melodies increase the nostalgia factor tremendously.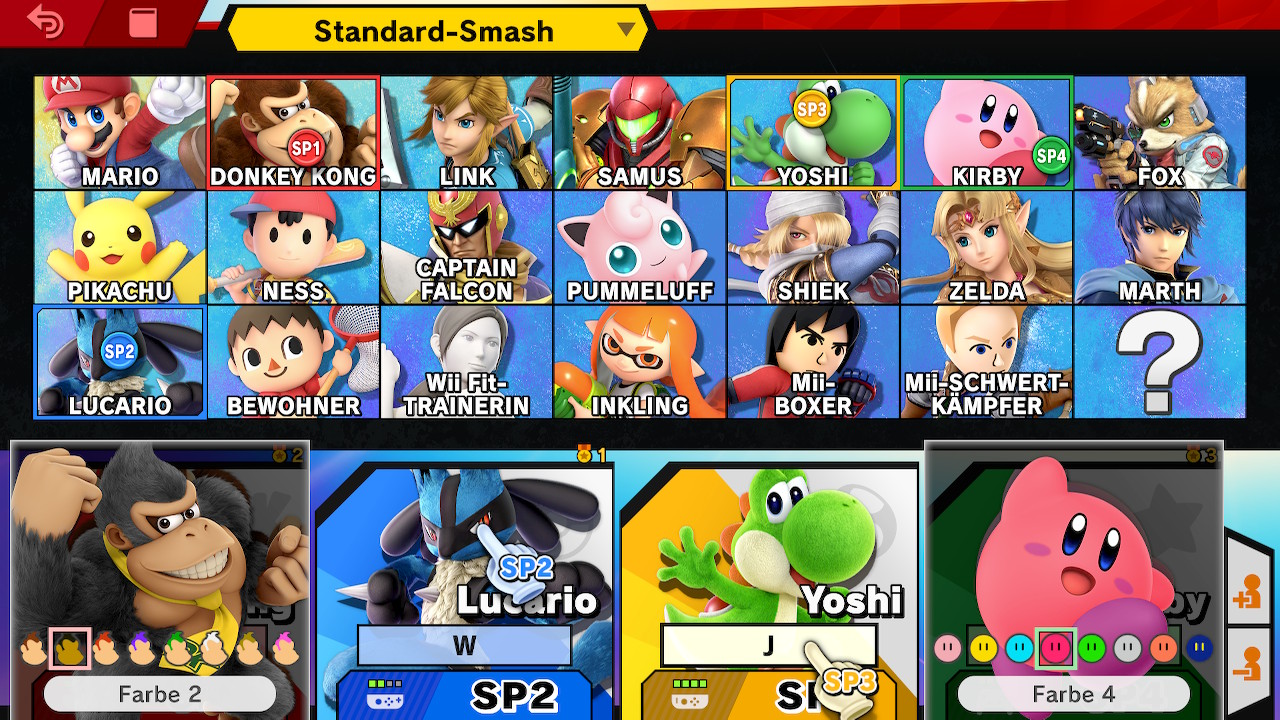 fighter selection including individual look
Ultimative selection
In Super Smash Bros. Ultimate you are literally spoilt for choice. Not only can you choose from a huge selection of stages and music tracks, but after your eight starters, who make up the original team of the first Super Smash Bros., you can 63 more characters to play free – from Sonic, Zelda to the Wii-Fit trainer. In addition to all the fighters known from the predecessors, there are eleven new comrades-in-arms to discover, such as Dark Samus from the Metroid series and Princess Daisy from the Mario universe. The characters appear randomly after matches and must be defeated in battle to join your team. In addition, each fighter is equipped with eight different outfits, which can be chosen as desired before each fight.
Super Smash Bros. also offers you a variety of different game modes. In Smash mode you can play classic standard Smash for up to 8 players, Squad Smash for teams of 3 or 5 players against each other, the tournament for up to 32 players as well as the special Smash mode, in which you can find three additional game options. When you create a custom Smash, you create a match to your personal taste: the appearance and size of the fighter, speed, your own rules and more can be set by you and saved under specially named pre-sets. In Smash for All mode, you'll play the entire line of fighters you've played in the past, and in Super Sudden Death mode, you'll be catapulted wildly through the area.
In addition to the Smash mode, you also have the option to select other game modes in the menu, which by the way is more clearly arranged than ever before. In Classic Mode there is a separate campaign for each fighter in which you have to defeat a boss in thematically matching stages after a maximum of two and six fights. To improve your skills, you also have your own training mode. Another three challenges for up to four players are included in the Multi-Smash: in the 100 Smash you have to catapult 100 opponents from the stage as fast as possible, in the All-Star Smash you compete against the complete fighting squad and try to sweep as many opponents from the platforms as possible. Finally, for those who are looking for a really difficult challenge, there is Brutalo Smash, which, as the name suggests, is mercilessly brutal. The modes are all fun and are varied . Only that not all modes can be played to eight, is something of a pity.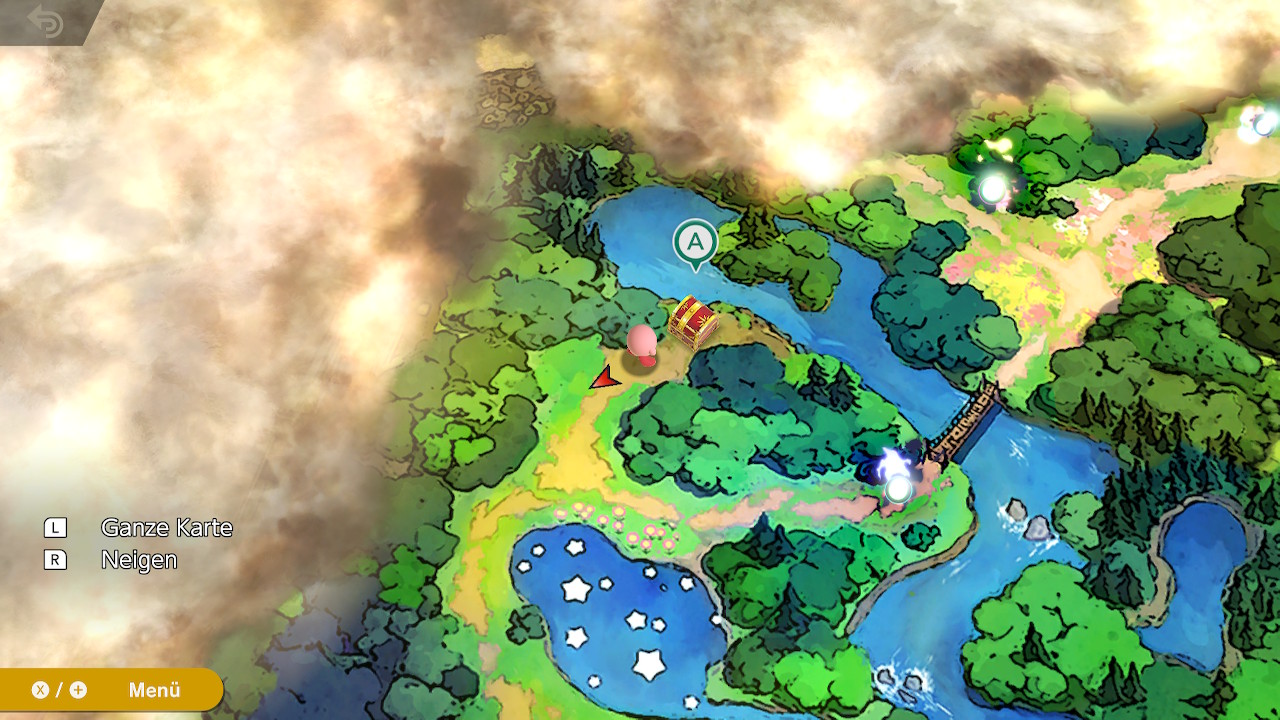 Kirby in the Shadow World of the Single-Player Campaign
Away to adventure
The probably biggest innovation is the adventure mode, which makes the singleplayer campaign of the game and works a bit like a game in the game. In a dramatic cutscene, you'll see all the fighters defeating the master hand one by one. Only Kirby survives the massacre with the last of his strength and takes on the task of freeing all his comrades from the darkness. Your rescue mission starts on a large, fog-covered map of the world. On given paths, you must defeat cloned enemies to advance. Step by step you fight your way through the fog, find some treasures and free your comrades-in-arms. You can exchange Kirby at any time with another already redeemed member of your team and play matches. As a reward for your successful battles you will receive knowledge points (WP) and ghosts.
The ghosts are visually reminiscent of classic trading cards and serve as perks, which are divided into primary and sub-ghosts. Primary spirits can be equipped with more sub-spirits depending on the number of free slots and thus strengthen your fighter. Each ghost starts with level 1 and is rewarded with experience points after confrontations as soon as they are selected in the inventory. Some also have the possibility to trigger an evolution at a certain level – for example Midna from The Legend of Zelda – Twilight Princess. Each ghost offers its individual advantages and also has one of three classes, which react to each other in the scissors-stone-paper principle. You can create your own sets at will and choose a suitable combination before a fight. You can also select the ghost decks in the settings for matches in the other modes and thus proceed more tactically.
Another way to strengthen your fighter is the newly introduced knowledge tree, where you can exchange your knowledge points for useful skills. The tree is simple and clearly arranged, available abilities are even marked with a flashing. The Adventure mode offers a great alternative to the other modes of the game. The area to uncover is large and offers countless hours to collect smashes and cards. Unfortunately in my eyes the map looks a bit functional and could have been designed a bit more exciting and beautiful.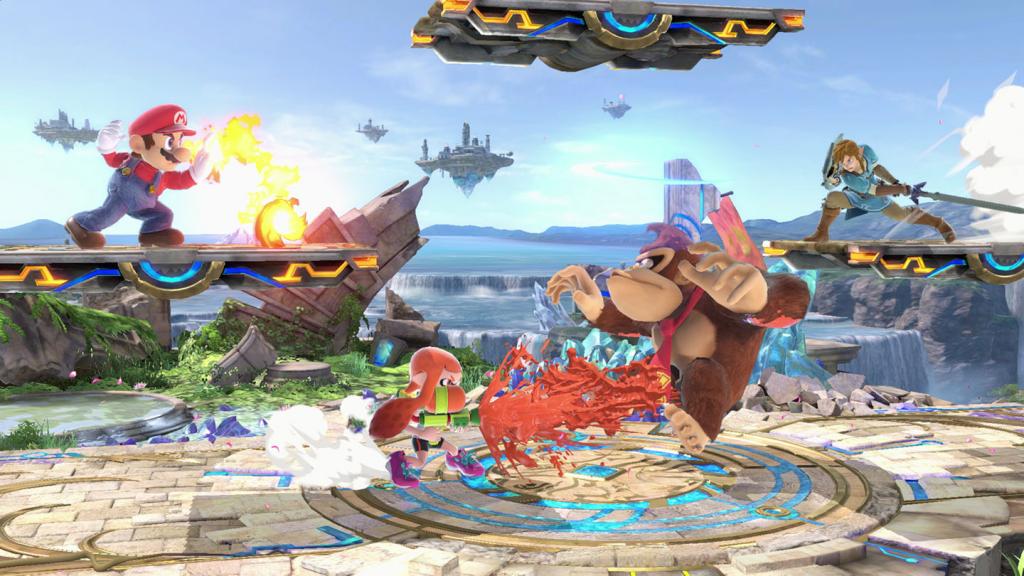 collective mania
It can be played either with the Joy Cons or the Nintendo Switch Pro controller and as a very special nostalgic highlight, it can be mashed with up to four original Nintendo GameCube controllers – provided you have an adapter. Newcomers will quickly get to grips with the system and controls. The fights run smoothly without any framerate breakdowns and it goes as usual lovingly chaotic to the point. The computer opponents have an adequate AI, whereby it happens, rarely however, that only one of the special attacks is used and the confrontation becomes very monotonous. In addition to normal modes, you will be offered a long list of challenges to complete, and will receive stickers that act as trophies. In general, your collector's heart will be rewarded with a large number of rewards that will drive you through the game.
For owners of the Nintendo-Online membership, there is also an online mode available in which you can compete against the rest of the world – motivation is guaranteed! If you have Amiibo characters, you can scan them and earn rewards – even for characters that are not compatible in-game, treasures are waiting for you! Even though none of the previous Switch titles offered such a sharp picture, the general presentation looks a bit clumsy . Because if you consider how much love for detail is now in other video games, there's still plenty of room for improvement here.
CONCLUSION
Super Smash Bros. is great fun due to the varied modes and activities and skillfully creates nostalgia and retro feeling. Due to the many free characters you are highly motivated to take the switch into your hands again and again. Even the already announced DLCs make you eagerly wait for new fighters – I think each of us surely has a dream candidate whom he would like to see in the future. Apart from small weaknesses, such as the repetitive behaviour of an opponent who simply executes the same attack over and over again (yes, I mean you, my dear Wii-Fit trainer) or the sometimes somewhat unloving optical design, Nintendo has delivered a top title, which I will play a few more times in the next few months.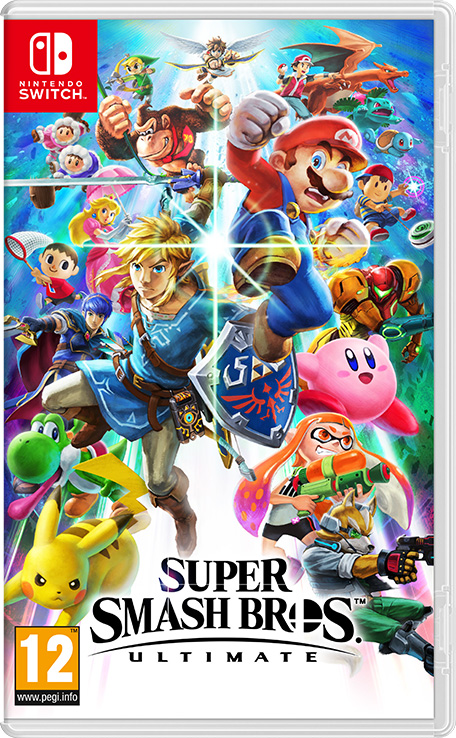 What is Super Smash Bros. Ultimate?
Cult beat-up game in which the game universes of various Nintendo games and spin-off studios meet
Platforms
: Nintendo Switch
Tested
: Nintendo Switch
Developer / Publisher
: Bandai Namco / Sora Ltd / Nintendo
Release
: 07.12.2018