Astro Bot Rescue Mission under test
2016, the (new) VR revolution was heralded with the market launch of the HTC Vive and Oculus Rift. However, both systems failed to live up to expectations and PSVR became the industry's hope. Now two years later some analysts are already talking about the death of the division and again it is Sony who wants to counter this downward trend. On the one hand by lowering the price of their VR headset a few months ago, on the other hand with a quality offensive in the games LineUp. Astro Bot Rescue Mission is something of a glimmer of hope and proves that VR games can be much more than just an elaborate tech demo.
If something free of charge, then it has usually also the pale aftertaste that it concerns thereby presumably qualitatively inferior commodity. Not so with PlayRoom VR, because PSVR buyers were not only able to download this as a free add-on goodie from the PSN store, but this small mini-game collection turned out to be quite a fun affair too. I remembered two games in particular. On the one hand there is the Monster Escape, in which you, as a huge, raging creature, lay everything in ruins that gets in your way. The funny gimmick: You compete against up to four other players, who first had to run away from the player with the VR headset and then face him in the final fight. The second game had the simple title "Robot rescue". Using a Dualshock controller, they controlled a small humanoid machine that has to save about 20 of its buddies in a 3D world. Both titles are not only really entertaining, but are also perfect for introducing VR newcomers to the technology.
The last mentioned game was apparently not only well received by me and so there is now with Astro Bot Rescue Mission almost a full version of it. Now we have to find more than 200 comrades scattered across five different worlds. There's a background story, of course: After a huge green monster crashed our spaceship, it's up to Captain Astro to save his crew.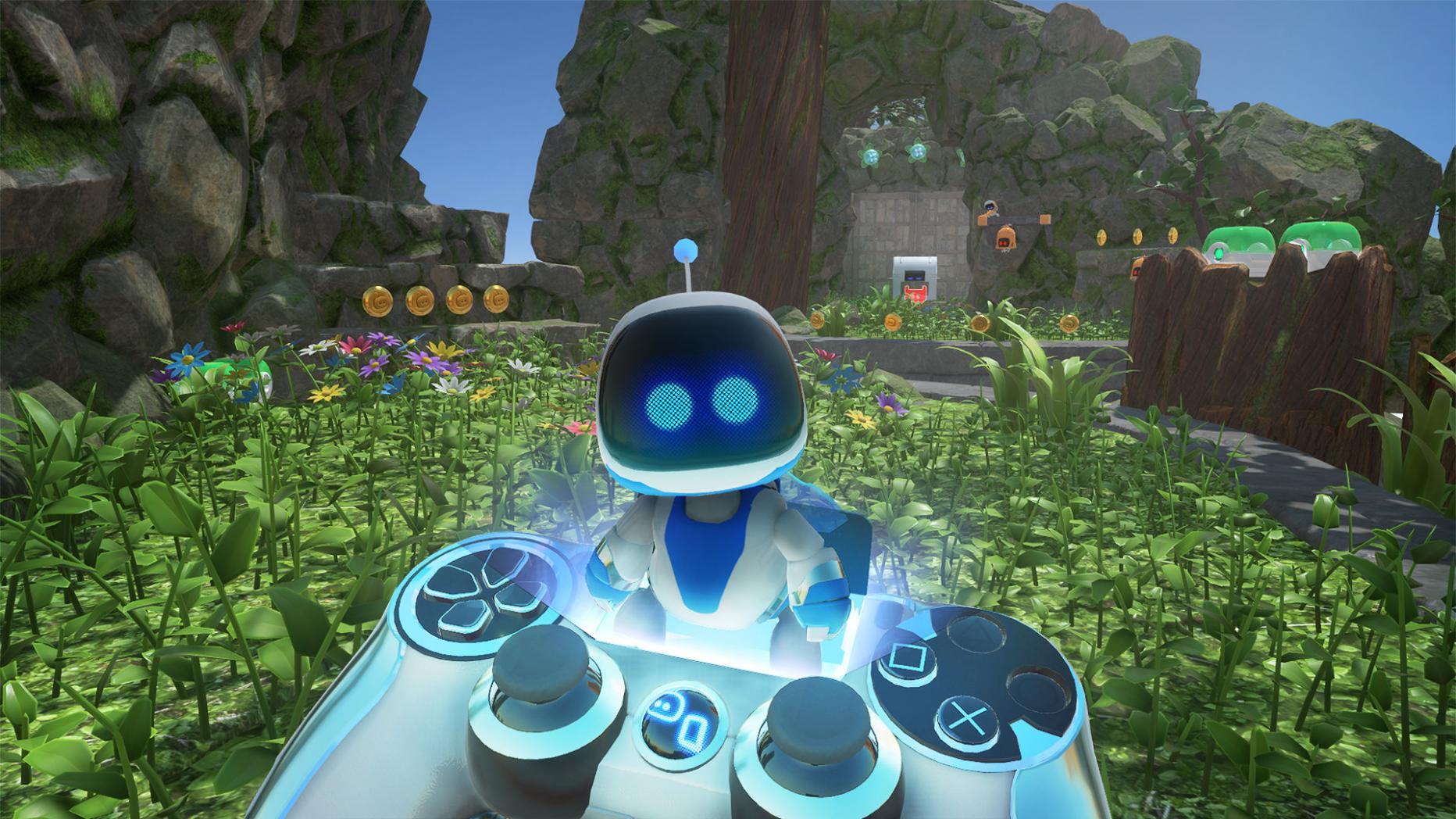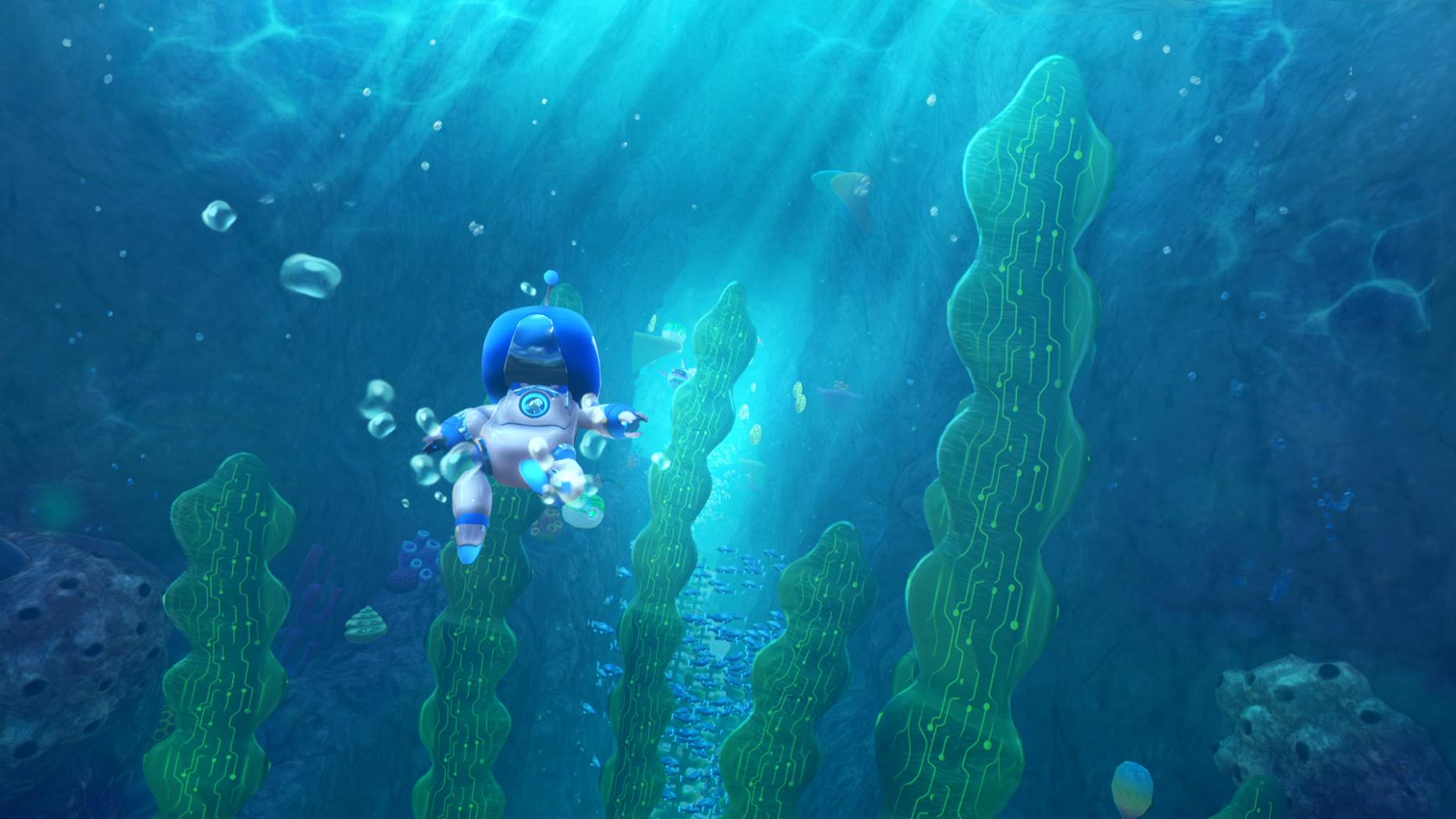 Jump'n'Run in VR
In general, Astro Bot Rescue Mission plays like a conventional 3D jump'n'run. You control the little hero by means of a controller, jump through colourful levels and free his fellow heroes. At the end of a game section, a boss opponent will wait for you, who can only be defeated with very special tactics. So business as usual. But unlike traditional genre representatives, you're in the middle of the game world, which allows 360-degree panoramic vision. In addition, the controller functions not only as a pure control device for our robot, but also has a variety of other interaction options. For example, it serves as a storage container for the collected bots. This is especially a nice optical gimmick, because when the little toddlers wave out of the touch pad and jump towards the target at the end of a game section, it's really lovely to watch.
In the advanced course of the game we can equip the controller with a grappling hook. Not only can it be used to eliminate enemies, but it can also be used to stretch ropes over larger abysses, on which Astro can then balance. It will also be equipped a little later with a water spray to irrigate plants that will then open up new avenues. Apropos water: Of course, a section of the game should not be missing in the wet element. Here our controller is transformed into a scooter by means of a propeller, which then pulls us along the seabed at high speed. It gets tricky in the Ninja level when we have to fire throwing stars using gesture control, which our little hero can then use as platforms to get to previously unreachable places. In general, Astro Bot Rescue Mission also has the following rule: While the first levels are still relatively easy, the level of difficulty increases significantly in the course of the game – which, however, always remains at a moderate level. The total of 20 levels should even not quite so experienced players in 5-6 hours through, who still does not have enough afterwards, he can prove himself in various challenges.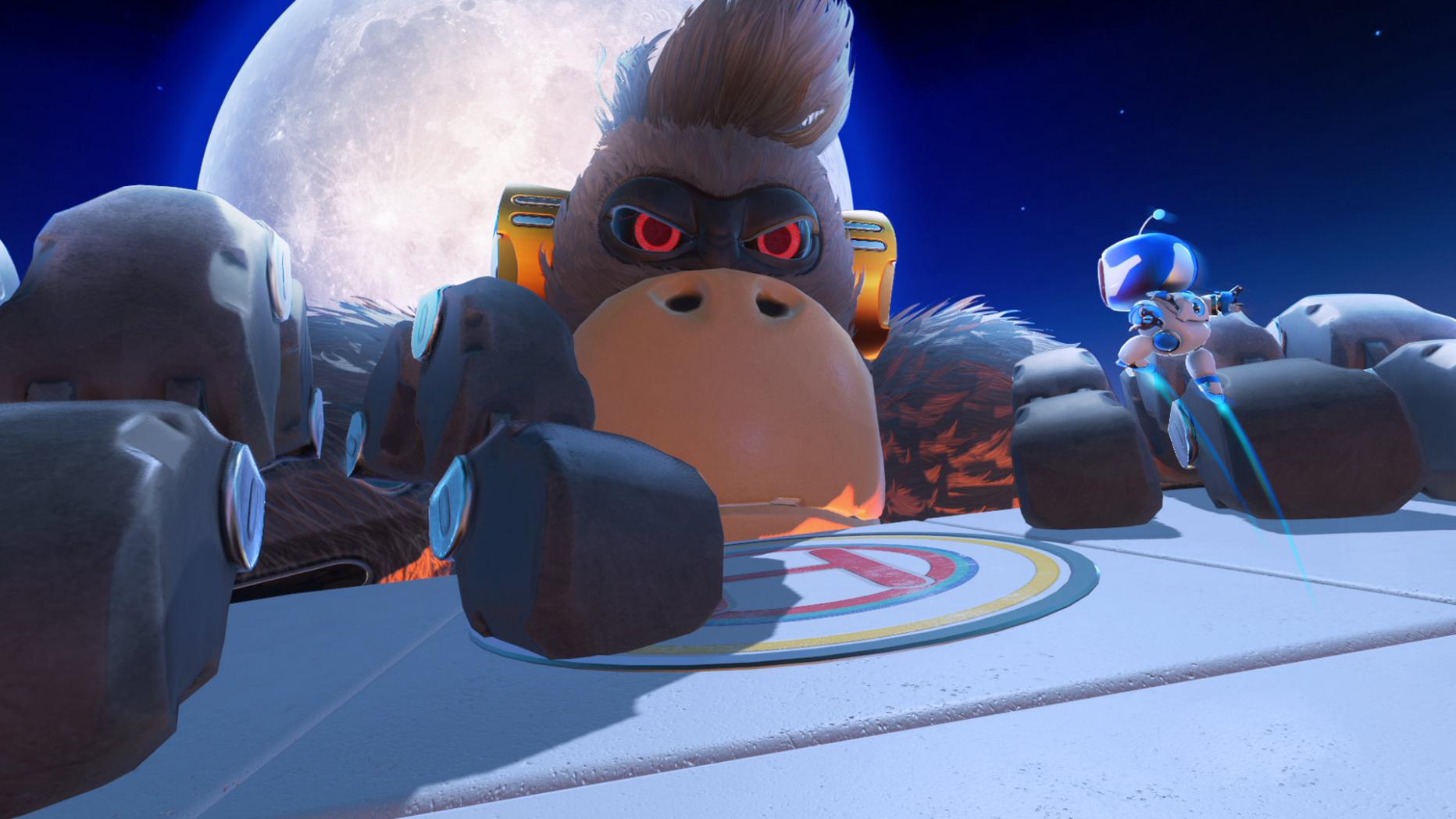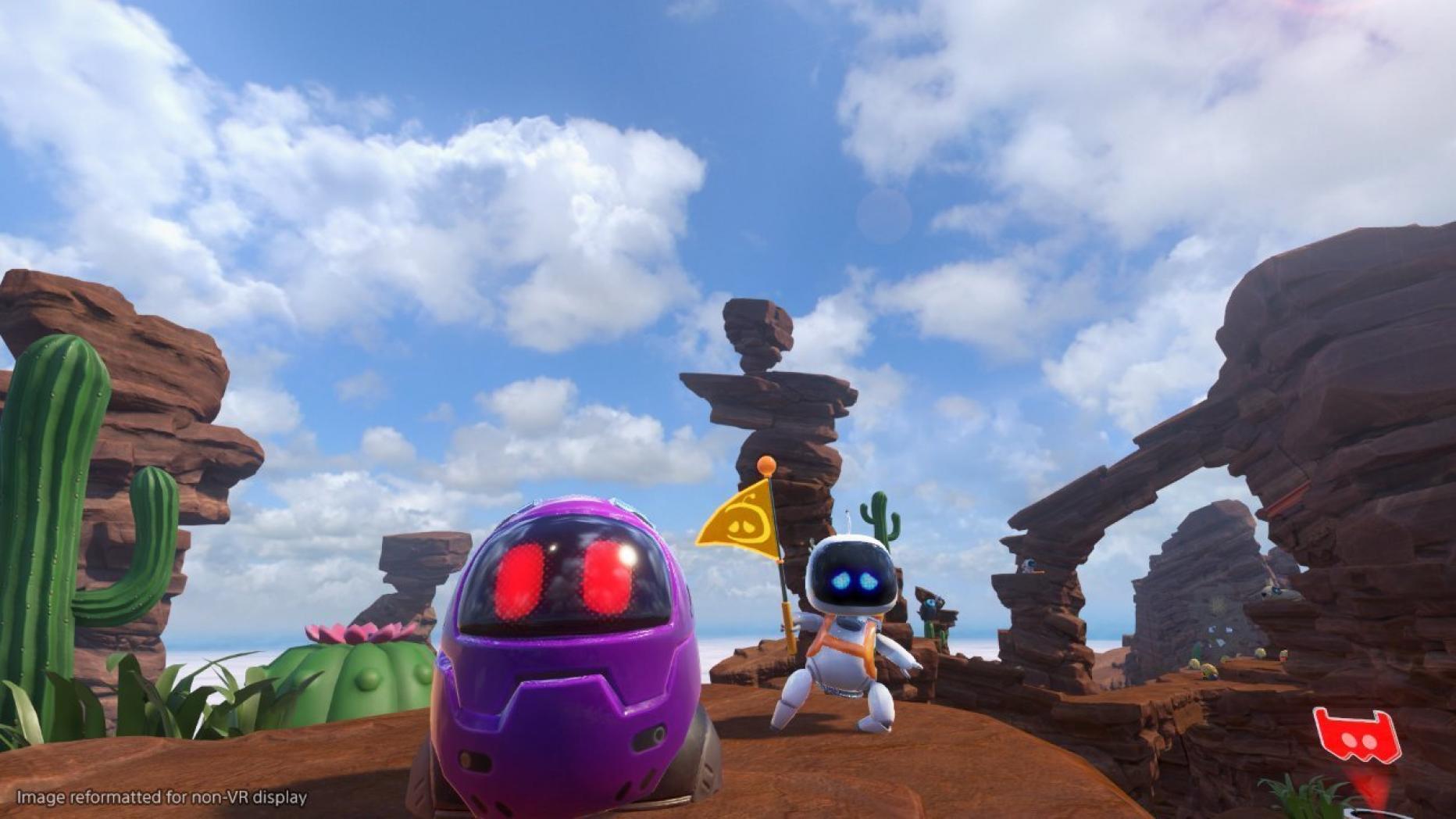 Full physical exertion
As a player you are not only limited to the interactions with the controller, but you are in the middle of the game. In order to get a better overview, or so that we can spot hidden objects, we have to move our heads and turn them. We also have to avoid opponents who want to slime us full with a sticky substance and thus restrict our field of vision. We should also take a step aside from the annoying mechanical bees before they prick cracks in our sights with their spikes. And if there is a bigger obstacle in the way, then we can simply remove it with a strong headbutt.
The highlight, however, are the five different boss opponents, who can only be defeated with a lot of skill and use of the tools, most of which have been preserved in the previous level. My personal favorite is the monkey, which not only tries to eat the little astro, but spits out of his mouth little nasty robots. In order to defeat him, we first have to smash every single tooth so that we can then pull it with our grappling hooks. And this is only one of the numerous creative ideas and an exemplary example for the imaginative opponent design.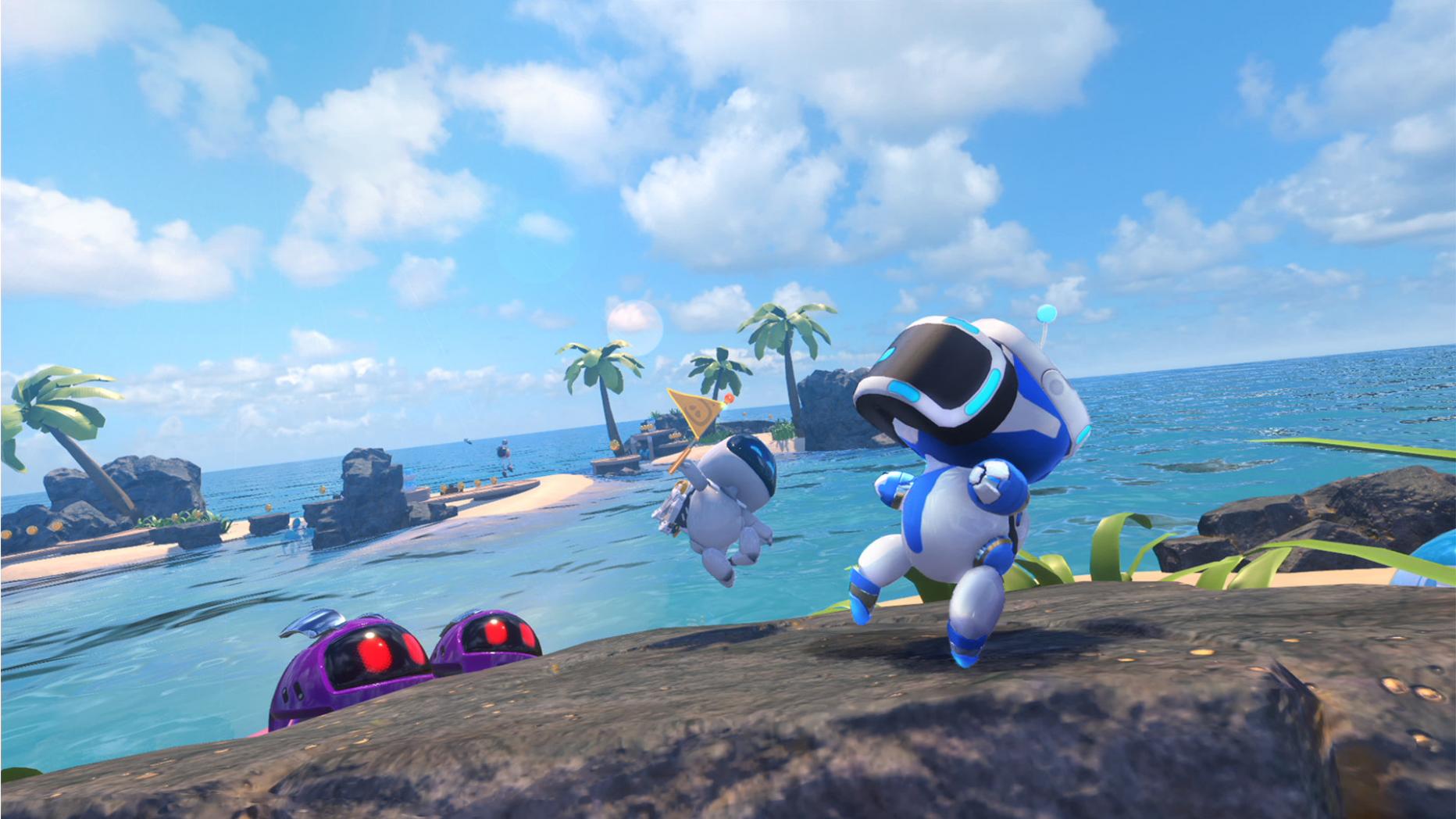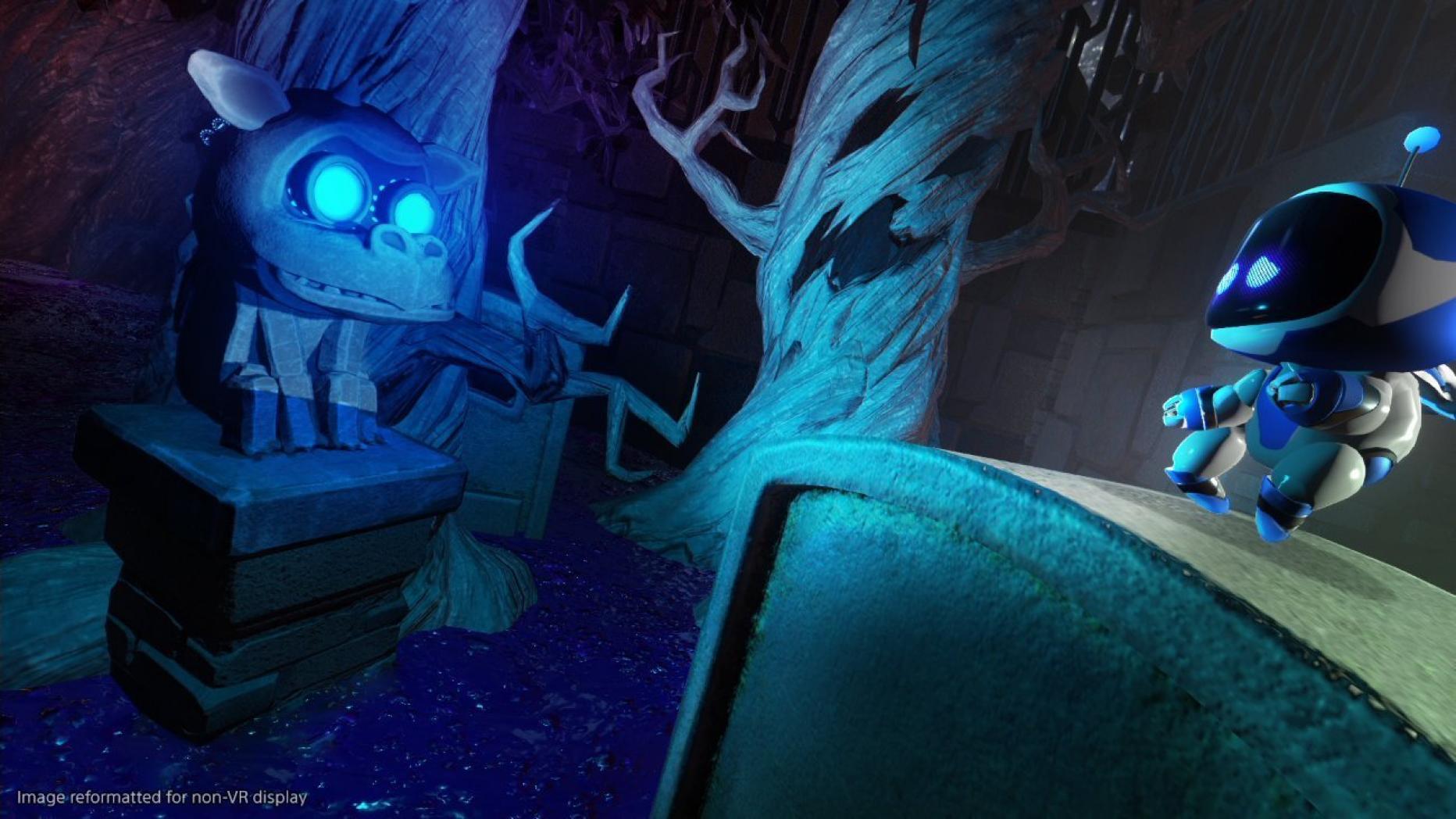 Wrenches for the overview
Jump'n' Run Games, which have dared to step into the third dimension, often have a bigger problem: The missing overview. With Astro Bot Rescue Mission this is not much different at first, because platforms and objects are not always recognizable at first sight. But unlike the genre colleagues, this is part of the gameplay and with a few twists you get the necessary overview. This works even better and above all more intuitively than with the classic camera control. Also in terms of presentation, the game clearly outperforms its competitors. Although it offers the typical, high-quality standard fare with its colorful levels, in VR the immersion is of course simply many times higher. Especially during the boss fights and in the interaction with the small robots, this technical aspect comes to the fore. This means that even minor technical deficiencies, which occur primarily in hectic situations, can be easily overcome.
FAZIT
Actually, I had already packed my PSVR neatly, stowed it in the basement and finished it off with the VR theme. In spite of some top-class titles, there was none that could captivate me for more than a few hours. But one of my personal highlights was the short trial version of Astro Bot Rescue Mission in the free Playroom VR minigame collection. That's why I didn't hesitate for long, cleaned my headset of dust again, and with the full version of the Jump'n'Runs I'm again immersed in the virtual reality. Good, because the game is certainly THE current highlight of this VR generation. Astro Bot Rescue Mission shows one thing very clearly: If you don't compulsively try to port a given gameplay into a new technical framework, but implement VR as the central element and build up the remaining game mechanics around it, then technical and human limitations (keyword motion sickness) become a minor matter and it's a lot of fun. Astro Bot Rescue Mission remains a classic 3D platformer in its core, but cleverly combines many elements with the technical possibilities of VR to create a unique gaming experience. Cool, funny and at the same time playfully demanding – in short: a must-have for all PSVR owners!
What is Astro Bot Rescue Mission?
A Jump'n'Run for PSVR, where "in the middle of it instead of just being there" is not just an empty phrase.
Platforms
: PSVR
Tested
: PSVR
Developer / Publisher
: Japan Studio (Asobi! Team) / Sony
Release
: October 4, 2018
Link
: Official Website