Tezos buy fast and easy: Step by step guide – Coin Hero
The crypto currency Tezos was already launched in 2014, but did not appear prominently on the crypto market until the summer of last year (2017). The blockchain of Tezos is adaptable, the stakeholders have an active right of co-determination about the future development of the coin.
The more Tezos Coins are held by a person, the more weight his voice gets during the voting process. The model was designed by the Swiss Tezos Foundation, with much of the development work being carried out by Dynamic Ledger Solutions Inc.
Crypto currencies like ZCash's Monero are characterized by completely anonymous, untraceable transactions. This feature will also be implemented in Tezos. This is a great advantage for all investors who attach great importance to privacy and data protection.
Recently, the Tezos Foundation released its own beta network. All new functions are tested in this environment and then transferred to the mainchain. The programming language used is limited to Ocaml and Michelson, whereby the latter is primarily responsible for the design of Smart Contracts.
Tezos is a young coin whose full potential has yet to be unfolded, so now might be a good time to invest in the digital currency because the rate can rise in the long run. We will show you below how to do this quickly and easily.
Step: Find trustworthy stock exchange
Tezos is currently traded on very few stock exchanges. However, a well established stock exchange in Europe – HitBTC.
– is a good alternative.
HitBTC is an exchange that was established in London in 2013 and has been registered with the relevant financial supervisory authority since 2015. In terms of trading volume, HitBTC is one of the leading exchanges for digital currencies in Europe and offers reliable service and support.
Registration is quick and easy, so you can start buying Tezos in minutes.
Step: Register
All you need to register with HitBTC is an email address and password.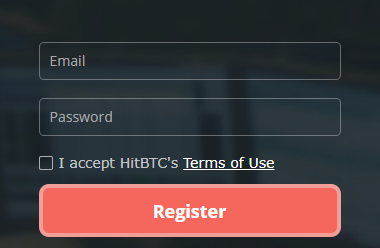 Directly after you have clicked the "Register" button you will receive a confirmation email containing a link you have to click to complete your registration.
Step: Verification and further information
In order to use the full functions of the exchange, you need to verify yourself. If you don't do this, you'll have General status. In this status you cannot deposit Fiat money, you can only transfer Bitcoin, Ethereum or Tether to your wallet and then use this money to trade for Tezos. Depending on which way you want to go, verification may or may not be required.
In general, the fees charged by HitBTC are low compared to other stock exchanges. Both the deposit and the withdrawal of crypto currencies is possible without limit at any time.


The minimum withdrawal amount depends on the digital currency and is also determined by the network fee. There is no minimum deposit amount for crypto currencies.
For orders that cannot be executed immediately, a discount of 0.01% will be granted. For all other transactions a fee of 0.1 % per cent is charged.
Sepa withdrawals equivalent to a value of 50,000 US dollars cost a flat 1 dollar.
Step Tezos buy
There are several ways to buy Tezos on HitBTC. The exchange pairs BTC, ETH and USDT are available. That means that you can deposit either Bitcoin, Ethereum or Tether on the stock market and then trade this against Tezos (XTZ).
Of course you can also deposit Fiat money and buy BTC from it and then buy against Tezos. However, you must have reached the first verification level. The examination is extensive and often lasts several days.
As you can see the Exchange offers many different possibilities. We show you how a purchase of Tezos against Bitcoin works.
Step Exchange Buy
After you have successfully registered, click on Deposit in the top right-hand corner of the navigation bar. Now you can see your account overview. As already explained you have to deposit BTC, ETH or USDT now to exchange it for Tezos.
Select Deposit Bitcoin here to create a receiving address for Bitcoin. At this address you deposit your Bitcoin. If you have Bitcoin on another Exchange you can send it to the wallet address created here. If you don't own a Bitcoin yet you can either buy it on HitBTC itself or at bitcoin.de.


The Bitcoin should be displayed within 24h in your wallet at HitBTC.
At HitBTC there is a distinction between "Main Account" and "Trading Account". To buy Tezos you simply have to move your Bitcoin into your trading account. This works quite simply via the arrows under the tab "Transfer".
With the arrow to the right you move your Bitcoin into the trading account and you can start immediately and buy Tezos.


The next step is to click on Exchange at the top of the navigation bar and then on "Instruments".
In our example we enter XTZ in the search field to search for the cryto currency Tezos. Furthermore we want to exchange BTC for XTZ, therefore we select BTC from the "Instruments". Then the price of BTC for XTZ is displayed.


If you clicked on XTZ, a box will appear where you can buy Tezos. Here you have the choice whether you want to buy Tezos at the current market price or per limit order. The easiest solution for newcomers is to buy Tezos at the current market price. Choose the "Market" tab.
Now you have to enter in the field "Amount" how many Tezos you want to buy. The total purchase price is automatically displayed in the "Total" field. You can also enter how much BTC you want to exchange for Tezos and enter this value first. For both variants, the corresponding values are then calculated and displayed. In our example we want to buy 100 Tezos: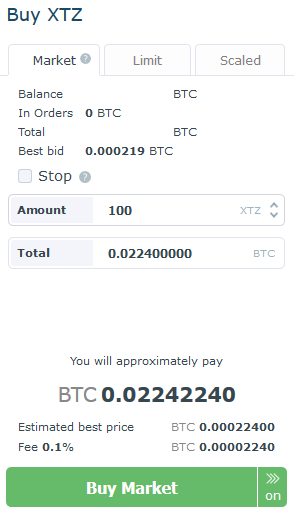 The trading fee is 0.1%. If you now click on "Buy Market", your transaction will be executed immediately and you will receive 100 Tezos wired to your Tezos Wallet. The exchange is accepted and completed immediately. You can then look at your wallet and make sure that the amount has actually arrived.
If you want to withdraw Tezos from your wallet, you must first move it from the trading account to the main account. This detour is unfortunately a bit complicated, but necessary to send Tezos to an external wallet.
If this seems a bit too expensive and risky for you, if you are still relatively new in the crypto business, we understand that. We advise then to a trusted, regulated broker like eToro. Here you can only buy a limited selection of known, large coins, such as Ethereum, Ripple or Bitcoin, but you are on the safe side and reduce your risk to a minimum. Start now with eToro!
If you have any questions, please write a comment and we will help you immediately!