Tether withdraws a quarter of all USDT from circulation – competition strengthened
In the past days Bitfinex and the Tether Limited were strongly in the focus of the public. After both companies had lost another banking partner, Bitfinex customers could not make Fiat deposits for a while. The rumours of Bitfinex's insolvency started rolling again. This also raised doubts about the stable coin tether and its coverage by the US dollar.
Zwar both Bitfinex and Tether have now found a new bank to handle their business. The Block reported that Bitfinex had received a bank account with Bank Prosperity Revenue Merchandising Limited in Hong Kong, with Citibank acting as an intermediary bank for US dollar transfers. Tether Limited will now be a customer of Nassauer Deltec Bank in the Bahamas.
Nevertheless, the past week did not pass Tether by without a trace. As the Omni Explorer shows, Tether did not issue any new tokens in October. Instead, Tether Limited has sent a total of seven times 690 million tether (USDT) back to its treasury account and thus withdrawn it from circulation. The majority of remittances (USDT 580 million) have been made since 14 October. It is therefore noteworthy that the bulk of the outflows occurred either after or immediately before the loss of the USD peg by USDT, when the USDT price slipped to up to USD 0.92.
.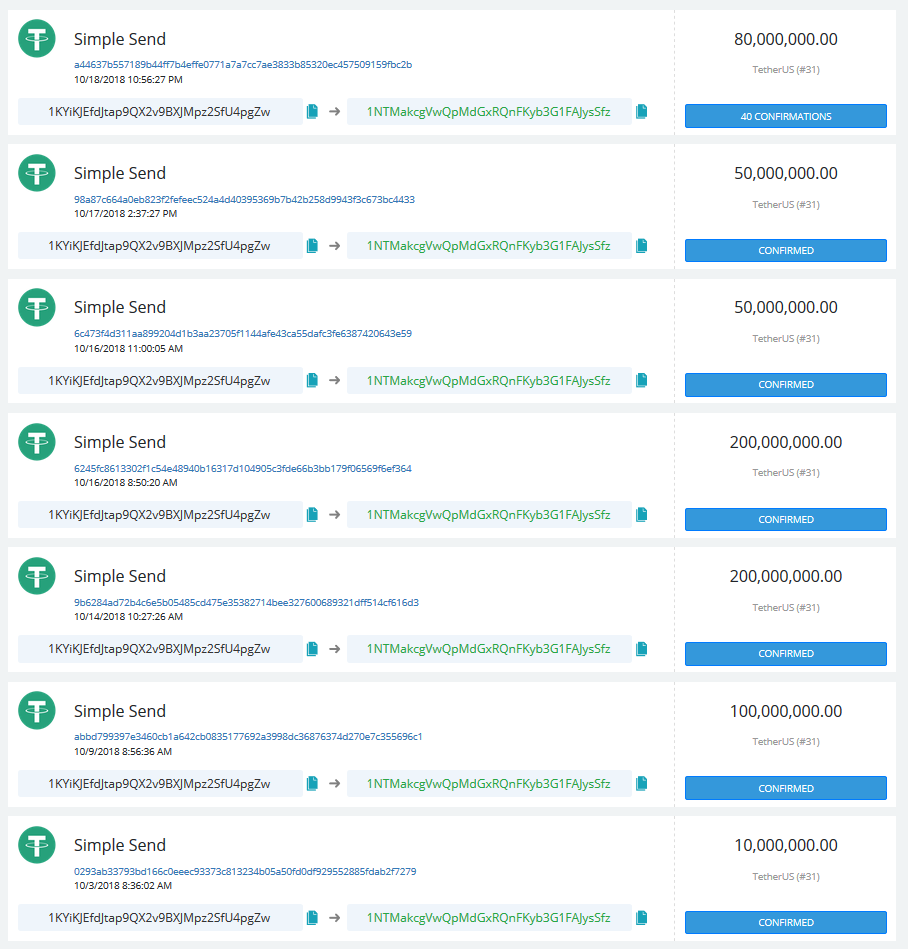 In total, Tether Limited has taken more than a quarter of all tether out of circulation. The number of USDT fell from around 2.8 billion to 2.008 billion. Tether's last issue took place on 21 September, when market capitalisation rose to just over USD 2.8 billion, a new all-time high.
At the time of writing, Tether had still not reestablished its peg to the US dollar. Tether is currently trading at 0.9821 USD. It remains to be seen whether Tether Limited will withdraw further USDT from circulation.
strengthening of the other stablecoins?
One possible explanation for the weakness of tether could be the strengthening of other (new) stablecoins. Tether users could have exchanged them for one of the newly introduced "regulated" stablecoins, such as the Gemini Dollar, Paxos or the slightly longer existing TrueUSD (TUSD). This would have been particularly attractive from Bitfinex in recent days as these stablecoins were traded at a premium to both the USDT and the physical dollar itself.
However, a look at the market capitalizations of the individual stablecoins shows that there was a significant inflow for competitors, but not to the extent of USD 600 million.
TrueUSD
has seen the strongest increase. Since October 1, the volume of all TrueUSD in circulation has risen from around 100 million to 160 million (by 20 million since October 14 alone). Regarding the
Gemini Dollar
Coinmarketcap does not currently offer any market capitalization data. However, the trading volume speaks for itself. Before October 14th, the Gemini Dollar (GUSD) was still below USD 50,000 a day. After 14 October, the trading volume rose to over 14 million at times. GUSD thus apparently also recorded a considerable influx.
Paxos
Market capitalisation also increased significantly from 13.5 million (before 14 October) to over 64 million at times. There are currently around 42 million PAX in circulation.
If one compares the total circulation of the three competitors (USD 200 million + X GUSD) with the 2 billion of tether, the competing stablecoins are still far behind the market leader. Nevertheless, there may be a change in power to come. If investors continue to lose faith in Tether's reliability and solvency, Tether could be on the way sooner than expected.