Logitech MX Vertical mouse under test
We are once again testing a mouse, but this time not a proven gaming mouse, but the new Logitech MX Vertical Mouse. Doesn't make sense on a gaming magazine you will think, but also in our community there are members, including me, who have health problems or pain when "mousing", but still want to gamble.
Exactly this pain during my long work in front of the computer in my wrist made me choose a vertical mouse years ago. There weren't many suppliers at that time and so I've been using an Evoluent VerticalMouse 4 for some time now. And yes, the wrist pain has almost disappeared since then, it's very rare and short-term, when the mouse is used very intensively. Now Logitech has also positioned itself in this sector and is launching the MX Vertical Mouse, a wireless representative of the "set up" mice on the market. In a direct comparison with the Evoluent mouse, which is also available in a wireless version and is available for about the same price of € 100 as the Logitech counterpart, we want to find out how the challenger performs in the Mouse War.
Technical data
sensor
nominal value: 1000 dpi and 1600 dpi
DPI (minimum and maximum value): 400 to 4000 dpi (can be set in steps of 50 dpi)
keys
4 customizable buttons (default setting: back/forward, DPI, center click)
scroll wheel
battery life
Rechargeable Lithium Polymer Battery (240 mAh)
Wireless range
Optional Software
Supported by Logitech Options
Dimensions MX Vertical
height x width x depth:
78.5 mm x 79 mm x 120 mm
Weight: 135 g
unifying receiver
height x width x depth:
18.4 mm x 14.4 mm x 6.6 mm
Weight: 2 g
Content
mouse
Unifying receiver
USB-C charging cable (USB-A-to-USB-C)
Manual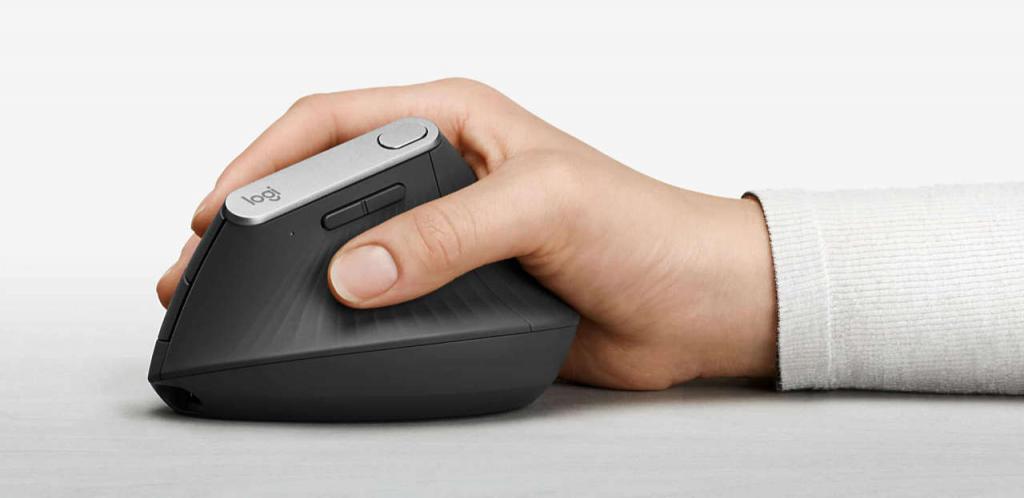 Ergonomics and equipment
A different from a conventional mouse, the hand does not lie twisted and flat on the back of the mouse, contrary to its natural posture, but encompasses the mouse from the side, since the mouse is almost set up at 57° and therefore the keys are also located on the right side. The thumb of the right hand rests in a hollow on the left side of the mouse. The Logitech version is only available for right-handed users, while Evoluent mice are also available for left-handed users.
On the Logitech mouse, two buttons are placed next to each other next to the usual mouse buttons and the scroll wheel above the thumb, which are easy to reach and are quite suitable for turning pages. The speed of the mouse pointer itself can be changed via a large button on the top edge of the mouse. The scroll wheel has a built-in button and is easy to operate. Basically, the mouse lies quite well in the hand, but we still like the ergonomics of the Evoluent 4 a bit better, as the hand rests a little more comfortably on the back of the mouse. But maybe it's just the habit of years of use. If you've never used a vertical mouse before, you might have to get used to the new hand position at the beginning, but it's much easier than getting used to a trackball.
The MX Vertical is basically wireless, but can also be used as a cable mouse with the included USB charging cable. But we don't want that and so we plug the included Unifying receiver into a USB socket of our PC and can establish a connection to our gaming PC by means of a button attached to the bottom of the mouse. By the way, up to three devices can be connected to the mouse, so you can easily switch from one screen to the next. The manufacturer promises us a battery life of a good 4 months until the part has to be supplied with power again. If you don't want to use the adapter, because there may not be another USB socket available, you can also connect the mouse to the computer via Bluetooth, which will be especially interesting for notebook owners.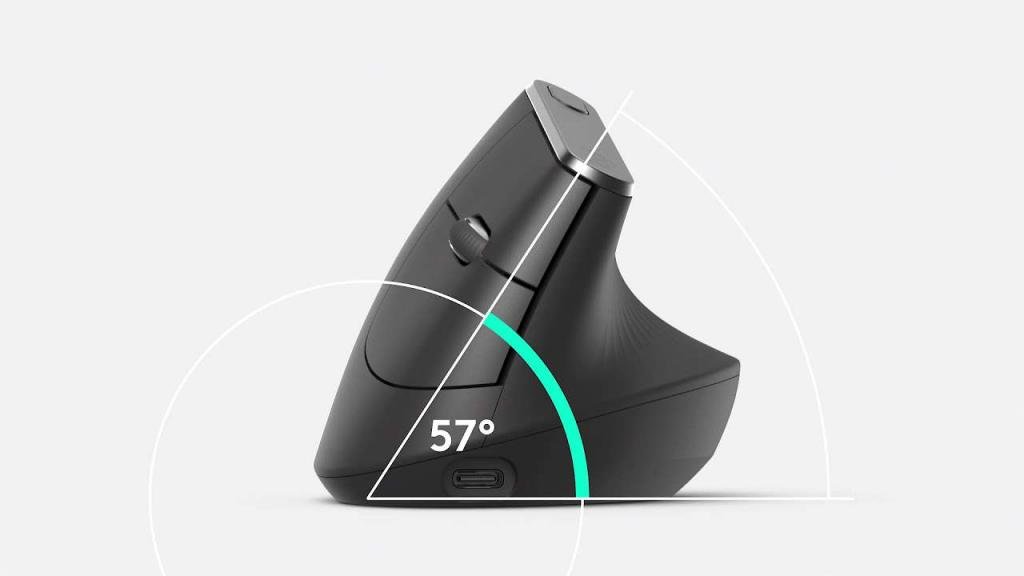 To customize the mouse buttons, the user can use Logitech's Options software to conveniently set the cursor speed in 2 steps. Surely it's interesting for us gamers to have one setting for more precise work and then maybe a more aggressive speed for gambling. The other mouse buttons can also be assigned various functions, only the standard buttons cannot be adapted. This mouse also boasts the same high quality of Logitech products and features a precise 4,000 DPI sensor, which reduces hand movements by up to four times, thus reducing forearm fatigue.
Now, of course, we wanted to test the good piece in practice while playing and the Logitech MX Vertical cuts a fine figure here as well. Once you get used to the new hand posture, you won't have any problems with the control in games either, it reacts quickly and precisely, even with faster shooters. At least the everyday gamer will be satisfied with the performance here and the mouse is not meant for professional gamers anyway, there are certainly more sophisticated devices with more functions and gimmicks.
More info about the mouse also at https://www.logitech.com/de-at/product/mx-vertical-ergonomic-mouse
FAZIT
If you have problems with your wrist or even a mouse arm, you should definitely consider a vertical mouse, I personally swear on this kind of mice and had since use almost no more pain when "mouse". For a high quality mouse from Evoluent or the Logitech Vertical MX you have to pay about 100 Euro, but it is worth it because of your health. The Vertical MX does its job as a wireless mouse quite well, it is well crafted, very precise in gaming and above all sociable. Compared to similar products, the mouse cannot necessarily take the lead now, but it is certainly one of the best representatives in this category. Seen this way, we can only give a recommendation for all gamblers who are looking for a health-conscious mouse.