Institutional interest in Ripple's XRP is rising: New quarterly figures presented
Ripple's software solutions are popular with both small and large companies, but the interest is particularly high among institutional investors. Ripple's market report on the current situation during the past quarter shows great progress in adapting Ripple's technologies.
Ripple more than doubled its XRP sales compared to the second quarter and sold $163.33 million in digital assets instead of $73.53 million (Q2 sales), according to the report. The largest share of the increased sales came from the sale to institutional investors. Ripple sold $98.06 million to institutions in the dirtten quartl, compared to $16.87 million in the second quarter.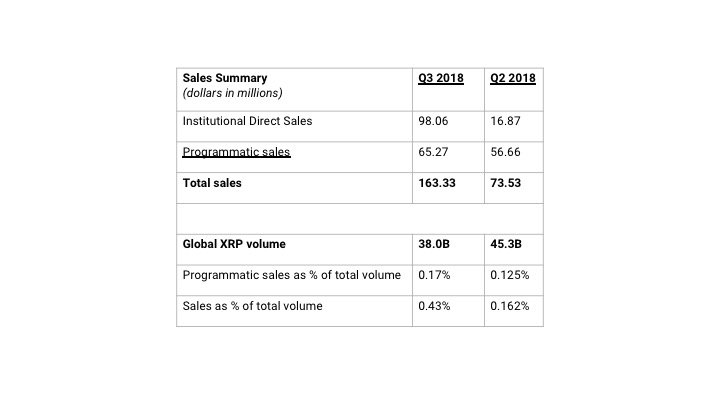 Source: https://ripple.com/insights/q3-2018-xrp-markets-report/
In comparison, the total market capitalization of all crypto currencies fell by more than 12 percent, with XRP also affected by the decline. XRP's price fell 13.37 percent over the last 30 days to a current price of USD 0.46.
.
Brad Garlinghouse, CEO of Ripple, pointed out in an August interview that he expects a new record rate among institutional investments that will leverage XRP (freely translated):
Q3 will definitely be a growing institutional involvement in buying and holding XRP.
The XRP volatility was rather weak during the whole quarter, but increased within the last two weeks as the price of XRP rose significantly.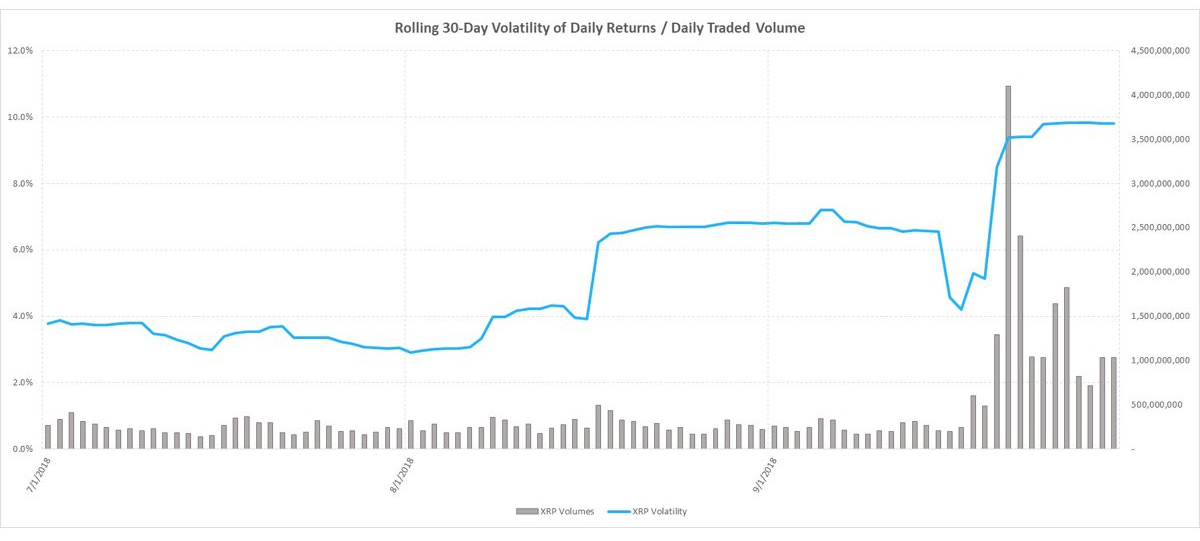 Source: https://ripple.com/insights/q3-2018-xrp-markets-report/
In Q4 2017, Ripple frozen 55 billion XRP in a cryptographically secured escrow account to ensure network liquidity at all times. In the third quarter of 2018, a total of 3 billion XRP were released from the escrow account, one billion per month.
Large institutional investors continue to be strongly interested in crypto currencies. Many heavyweights in the industry, such as Goldman Sachs and Nomura Holdings, announced that they are working on technical custody solutions to securely hold large amounts of capital that are also underwritten. Coinbase received permission from the Department of Financial Services in New York to offer custody services for a range of crypto currencies through a subsidiary.
Although the current prices of the third quarter show a sideways or slight downward trend, many developments in the field of adaptation and regulation point to a positive future price development.
Some reports within the Abacus Journal have allegedly resolved all problems related to the approval of the Bitcoin VanEck ETF. If an ETF is approved promptly, this could make it much easier for investors to enter the cryptographic market and new capital could flow into the cryptographic market. It remains to be seen whether this will actually happen.