Film Criticism: Mortal Engines: War of the Cities
Endtime stories in which surviving factions fight for resources and survival are known. They do it in post-apocalyptic desert landscapes in cars and on motorcycles, in boats on the open sea, or in mechanical combat suits in destroyed cities. But what you haven't seen yet are wars between gigantic cities that cross devastated landscapes on wheels or chains and hunt each other in the eternal search for food and fuel. So an opulent spectacle seems preprogrammed, but can something like this also convince?
CONTENTS
The gigantic robbery city of London has left the British Isles because resources there are becoming scarce and the ever-growing city needs more and more food and energy. When she takes over a small trading town, the young Hester sneaks on board, because she has a bill open with Thaddeus Valentine, London's leading researcher and archaeologist. She has sworn revenge because the unscrupulous man killed her mother when she was a little girl.
Although her assassination attempt fails, with the involuntary help of the up-and-coming researcher Tom, she is able to save herself from the city of robbery at the last second. While he only wants to get back to his hometown as soon as possible, Hester hasn't given up her revenge plan yet. But now Valentine knows she's alive and tries to get rid of her. Because his ambitious plans to make London the greatest power on earth are not to be jeopardized under any circumstances. When Tom and Hester realize what he is up to, they quickly have the common goal of stopping him. But what can two people do in the wilderness, in a world ruled by huge travelling cities?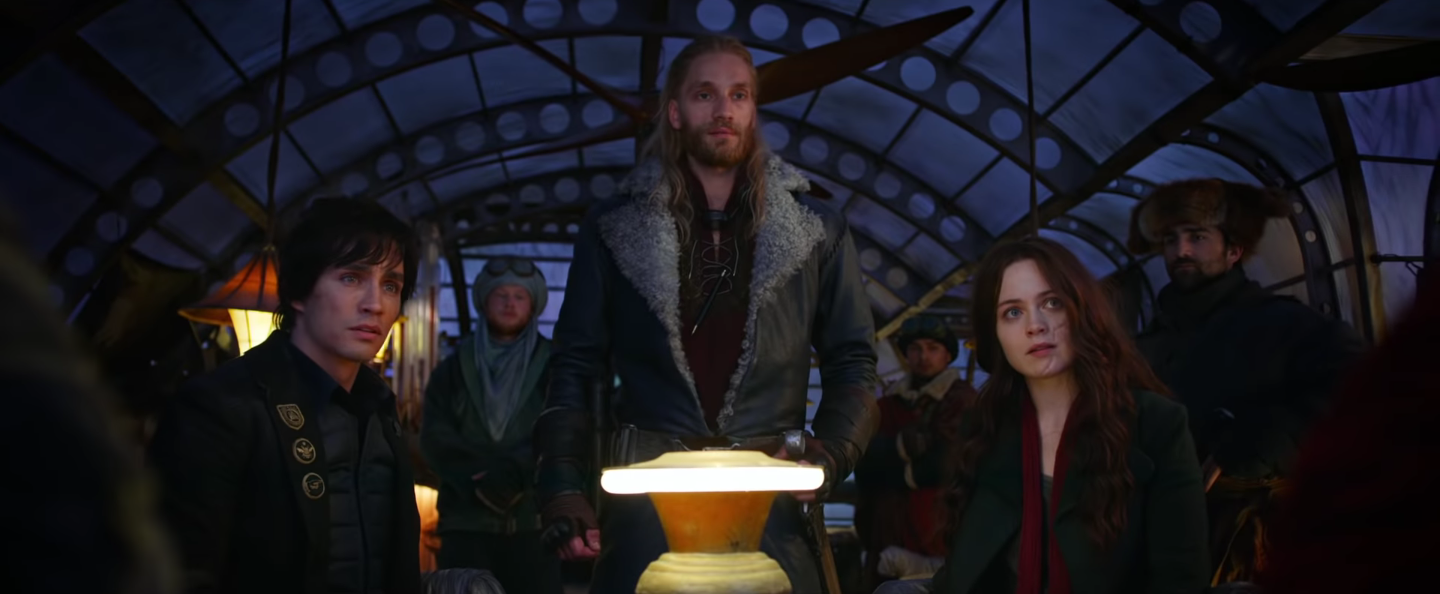 © 2018 Universal Pictures International
CRITICS
Even though Peter Jackson has been accused of much evil after the Hobbit movies, the ability to conjure up a fantastic spectacle on the screen, nobody can deny him. And although he has only worked as a producer behind the scenes at Mortal Engines: War of the Cities, this talent can also be seen here without a doubt. It's definitely no easy task to credibly capture a setup as crazy as it depicts driving big cities on film. And he and the team, with whom he already created the Lord of the Rings and Hobbit Trilogies, succeed in an impressive way. The style is highly reminiscent of classic steampunk, yet independent, and gives the movie its own flair. Especially the robber city London is an impressive piece of design, scenery and CGI art.
The story, borrowed from the novel of the same name, doesn't reinvent the wheel, but it can convince and offers everything that great adventure cinema needs. Great emotions, breathless action and the well-being of a continent at stake. Add a pinch of humour, heroic nudes, and the fantasy epic is ready. That's how you could leave it if Jackson (or whoever made this decision) hadn't made another massive pacing mistake. If you've stretched the hobbit a lot too much, the viewer of Mortal Engines almost wants a multi-part, or at least a much longer movie. A lot of things seem to be unwound in order to be able to hurry on to the next storyline. This circumstance hardly gives you time to put yourself in the shoes of the actors, to fear them, or to feel with them. Especially the subplot around Hester and her "foster father" Shrike stands out. The much too short construction time hardly gives the audience the opportunity to feel the emotions of the one shown on the screen.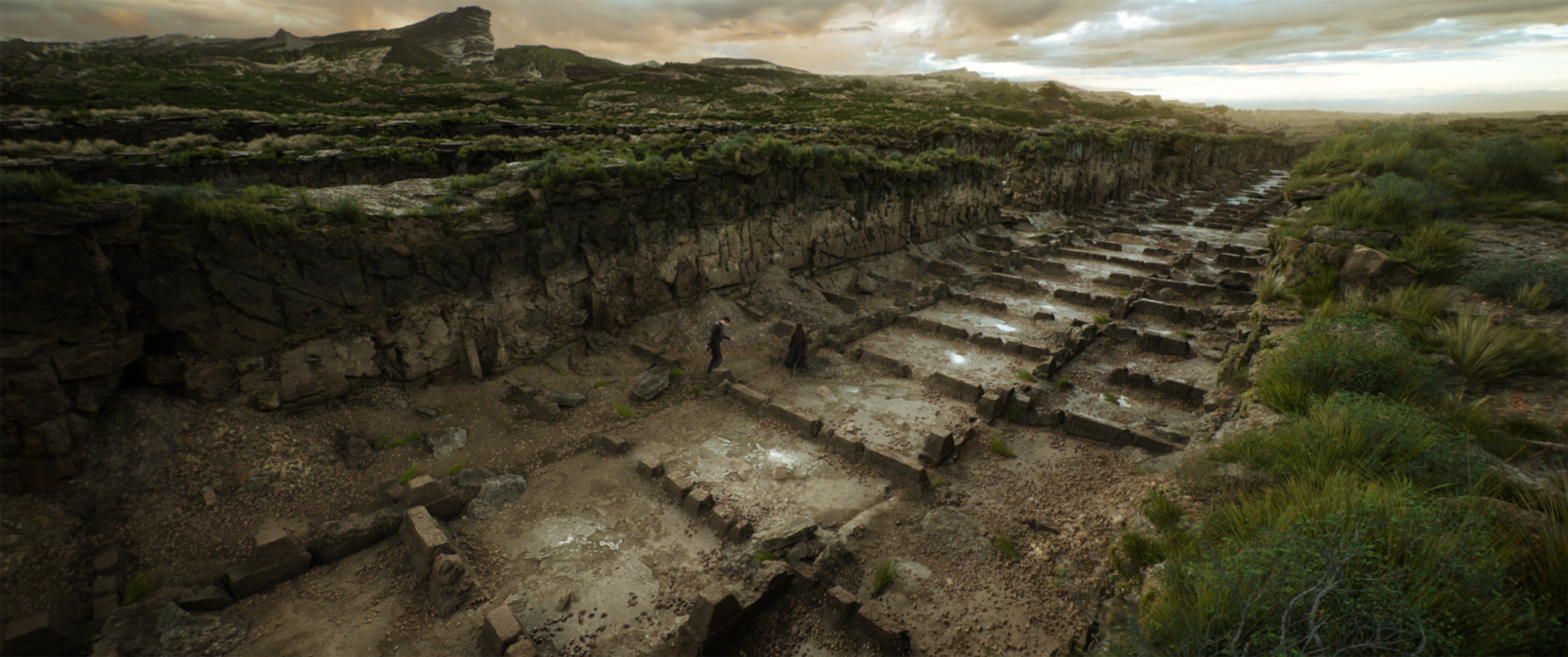 © 2018 Universal Pictures International
When the cast was cast, it was primarily unknown faces that were chosen, which in itself is a laudable thing. But in this case you should make sure to cast actors who have a certain talent and charisma. Hera Hilmar, who embodies Hester, still makes the best character. Her male counterpart, Robert Sheehan as Tom, remains pale and leaves no lasting impression. The same is true for most of the supporting characters, whereas Jihae as a cool air pirate bride seems downright out of place and unbelievable. The only really well-known name on the casting list is Hugo Weaving, who plays the villain Valentine. He can also convince without any problems, despite the somewhat immature motivations of his character.
As mentioned before, Mortal Engines is an optical spectacle. CGI is used massively because of its setting which is far away from reality, but its quality is beyond all doubt up to one or two tiny moments. The very own style is consistently reflected in the set, costume and world design, which makes the whole look like a whole. The editing does its best to slow down the overloaded script a bit, but it can't work miracles. Director and camera correspond to what you would expect from a film of this kind. The sound design, too, makes every effort not to break the atmosphere of these huge, warring steel monsters. Musically, the score of Junkie XL can't quite keep up with what's offered for the eyes, but it sounds consistently good and fits seamlessly into the overall picture.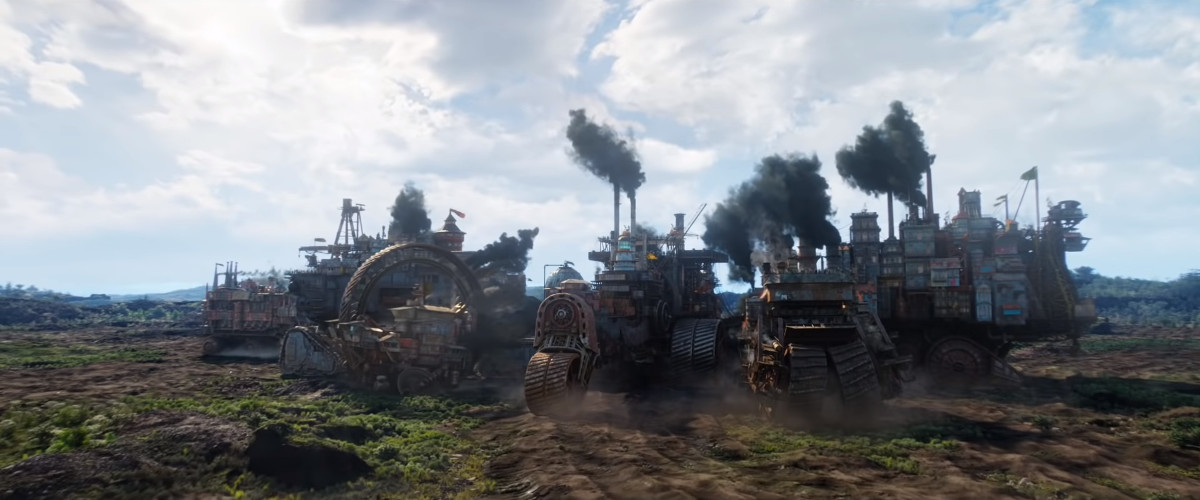 © 2018 Universal Pictures International
FAZIT
With Mortal Engines: War of the Cities the team around Peter Jackson presents us with an ambivalent package. All components of a thrilling and successful fantasy adventure are available. A powerful, fresh scenario and the not revolutionary, but quite interesting and multi-layered story, all competently mixed to a bombastic feast for the senses. Unfortunately, the movie is far too overloaded to take you on your journey with all your might, and rushes from one event to the next, without giving the audience time to really feel even the most emotional moments. The group of talented, yet pale actors does their best to let the implied depth come to the surface. What remains is an optically impressive, entertaining spectacle, that would have been more than helped by a longer running time.