Dual Universe: MMO enters alpha test
with new trailer
After months of extensive testing by its dedicated community and over $11 million in funding including crowdfunding support, Novaquark today announced the release of the first playable alpha version of Dual Universe.
This is the most significant milestone in the development of the civilization-building game since the successful completion of the Kickstarter campaign in 2016 – content updates await all alpha testers!
The game is based on four essential pillars: Exploration, construction, trade and conquest. Dual Universe's Alpha 1 brings the first three facets of this massive SciFi sandbox to life, allowing players to explore to their heart's content and build almost anything they can imagine. From underground bases and futuristic urban landscapes to interstellar space ships and planetary hovercraft – there are no limits.
In addition, with the launch of Alpha 1, players have much more room for their creativity. Thanks to the intensive terraforming activities of the developers, Alioth, the game's launch planet, has now reached an area close to the UK. It is thus not only the first, but also the largest static, explorable planet of all time in an MMO.
In addition to its terraforming and construction capabilities, Alpha 1 offers a variety of tools to help players mine, harvest, transport, store, and sell a variety of construction resources. For the first iteration of Dual Universe's crafting system, players need all the resources they can get hold of!
A detailed look at the Alpha 1 content and a preview of the key features that players can expect from upcoming development milestones is shown in the Roadmap:
.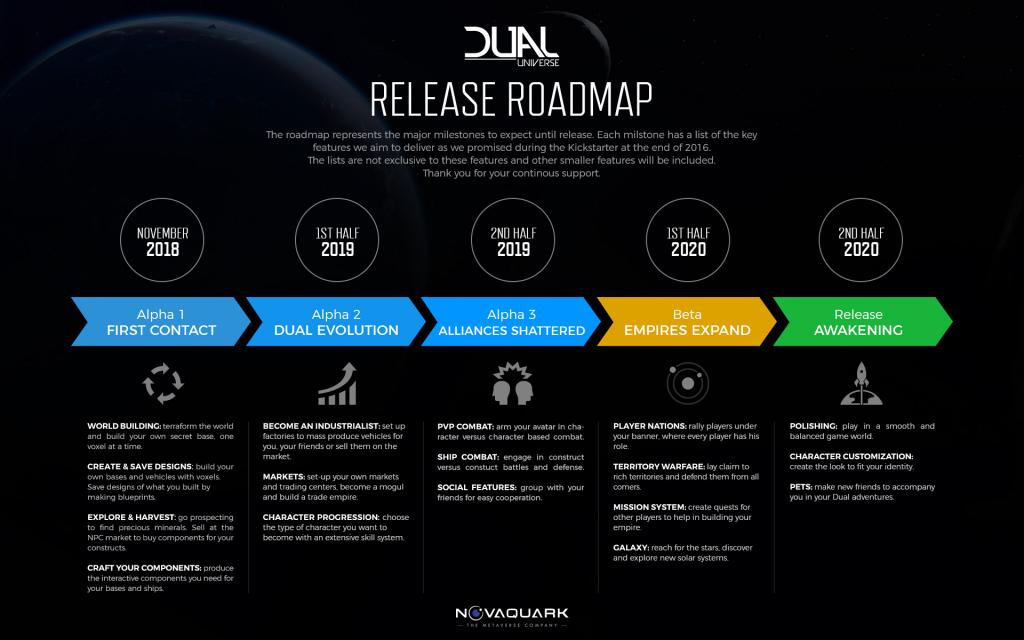 But this is only the beginning of Dual Universe's interstellar journey towards its publication. The strong involvement of the community since the beginning of the development will of course continue, and great value will be attached to the feedback from players – whether veterans or newcomers – while the team creates a real gaming metaverse and makes a sci-fi dream come true.
As proof of its commitment to this vision, Dual Universe welcomes all Kickstarter supporters to Alpha 1 by the end of the year – regardless of the amount they have contributed. In this way, the population of the game is brought to over 11,000 players, all playing in the same, fully editable servershard.
Dual Universe is now available in its Alpha 1 version. Publication of the Alpha 2 version is planned for the first half of 2019. Current updates for Dual Universe can be found on the official website.