Buy Tether: Step by step instructions
Tether is another crypto currency which is characterized by special properties and can therefore be particularly interesting for a purchase. We will show you below how to find the right broker quickly and easily and how to buy Tether without any detours.
Tether is also referred to as "stable coin" because its intrinsic value is pegged to the US dollar. That means if you have 1,000 tether on your wallet, you're holding a value of 1,000 US dollars. The price fluctuates slightly, so usually 1 USDT is exactly one US dollar.
Since the price is stable and not subject to high volatility such as Bitcoin or Ethereum, tether can be used for various scenarios. Tether can serve as a value store and prevent losses at times when the price is falling. A sinking Bitcoin rate of 20 or 30% doesn't affect you because your tether is completely stable, no matter what happens in the crypto market. Therefore it can be especially interesting for you to buy Tether.
A few steps to buy Tether
Find a reputable broker who offers Tether
Open an account
Buy tether or exchange for another crypto currency
Keep tether safely in a wallet
Long-term benefit from the stability of the asset
Find the right stock exchange
Tether can be purchased on many different platforms. We show you how to buy Tether quickly and easily from Binance. Binance is one of the most popular and secure crypto currency platforms in the world and also offers excellent service. We are already several years users of this Exchange and can recommend it all around.
Buy tether on Binance quickly and directly
There are several ways to buy tether on Binance. Here you can trade Bitcoin, Ethereum and Binance Coin against Tether. For this you have to take the following step:
Go to the Binance website and create an account if you don't already have one. The registration of a normal account is sufficient for this. Once you have completed the registration process, click on "Deposits" in the menu. You must first deposit Bitcoin or Ethereum into your account before you can trade Bitcoin against Tether. We will show you exemplary how this works with Bitcoin.

Then you have to choose Bitcoin. Now you will see your deposit address to which you must send your Bitcoin. For example, you can send Bitcoin from another wallet to this address. If you do not yet own a Bitcoin, you can easily and quickly sign up for eToro and purchase Bitcoin.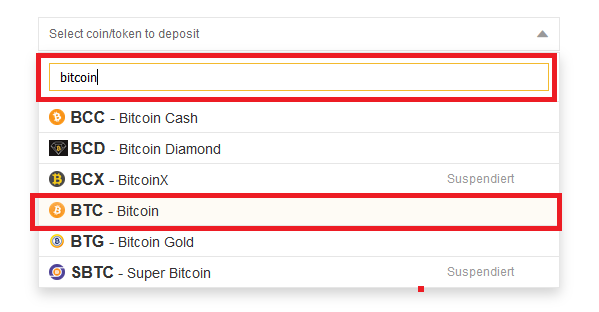 As soon as the Bitcoin have arrived on your Binance Bitcoin Wallet, you can get started. First click on "Börse" in the navigation bar. Then you get to the trading overview. To find Tether, you can simply enter USDT or Tether in the search function. Then you have to click on it.

Now you can finally buy Tether. Click in the tab "Market" (orange marked field) to buy Tether directly. In the field "Amount" enter how much tether you want to buy. Once you have entered your amount you can click on Buy USDT.
Your transaction is usually completed within seconds and the tethers appear immediately in your wallet.
In the past stock exchanges were often attacked by hackers, so we recommend you to move your tether to an external wallet.
The safest variant is to use a hardware wallet like the Ledger Nano S or Trezor. There your tether is protected from attacks and only you can access it. Find out in our test which hardware wallet performs best. The prices are already between 70 and 90€, so this amount is well invested money to protect your crypto currency.
Conclusion
In our Tether Buying Guide we have shown you all the steps you need to follow. Thanks to its stable value, Tether offers good conditions to emerge as the winner in times of falling share prices. Buy Tether now on Binance!