Aftermath: Reigns: Kings & Queens
The game idea of Reigns is both simple and very unusual: As a medieval monarch of modern times, we make far-reaching decisions by wiping our fingers to the left or right and thus rule our kingdom. Released in 2016 as a mobile game for iOS and Android devices, Publisher Devolver Digital releases the monarch simulation under the name Reigns: Kings & Queens now also for Nintendo Switch.
Long live the King!
A ruler dies of old age in bed and certainly not in Reigns. One finds the end of one's life lonely and alone because of an injury infected with gangrene, which was treated by a wrong doctor, is fed to the dogs after the treasury is empty or chosen by the church as a martyr and torn to pieces. But death is not the end, because in Reigns you don't play a single regent, but a whole monarchy. If a king loses his life, his successor will ascend the throne shortly afterwards. On a constantly growing timeline, the individual rulers are then listed, which, depending on their achievements, are sometimes given very humorous nicknames.
For a regency to last as long as possible, one must always be careful to keep the four pillars of governance in balance: Population, church, army and treasury. Each of your decisions can have a positive or negative impact on one of these four areas – to what extent can you only estimate very vaguely. If one of the respective indications drops to zero or reaches a maximum, then one of the more than 30 different types of death suffers.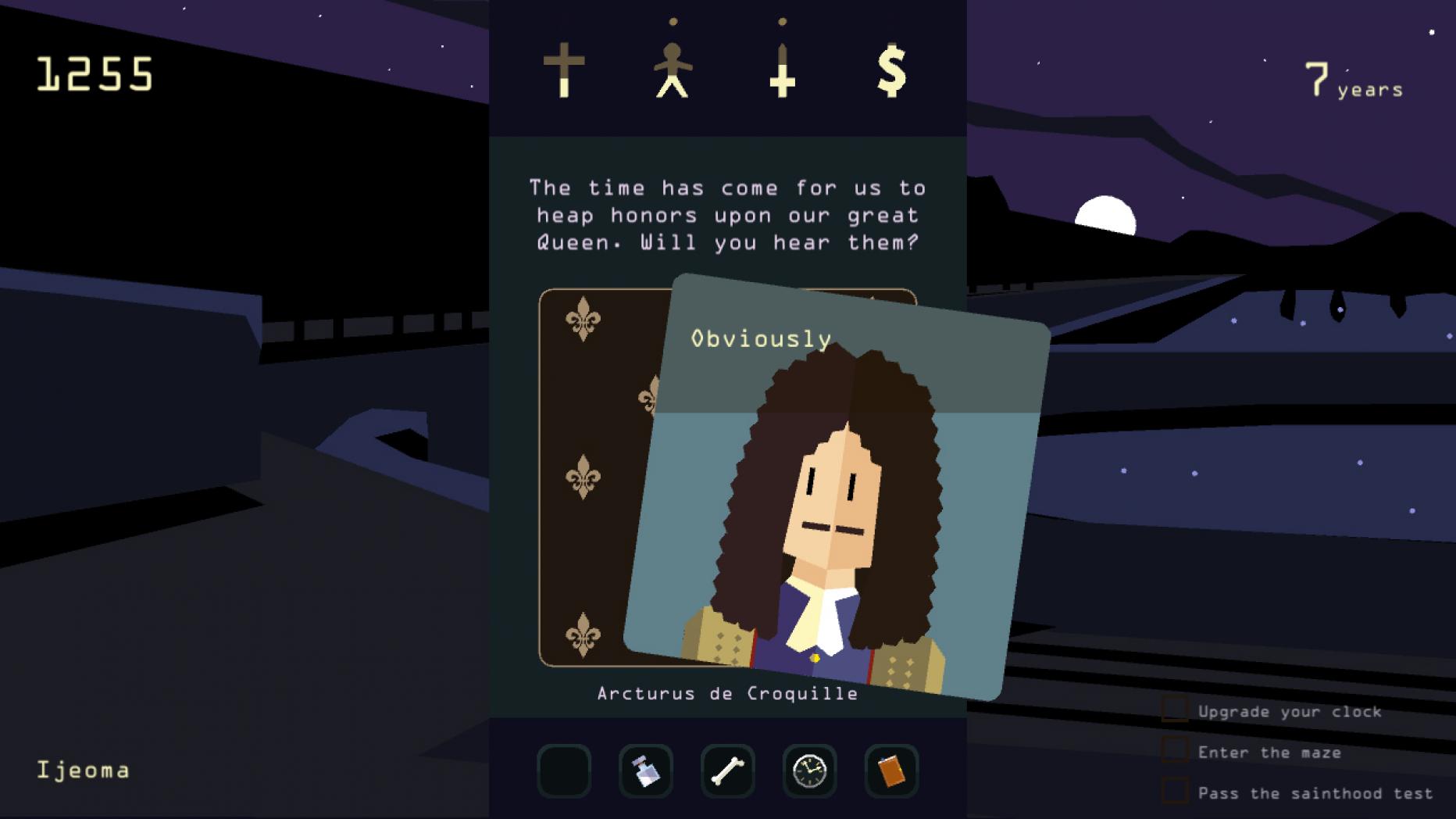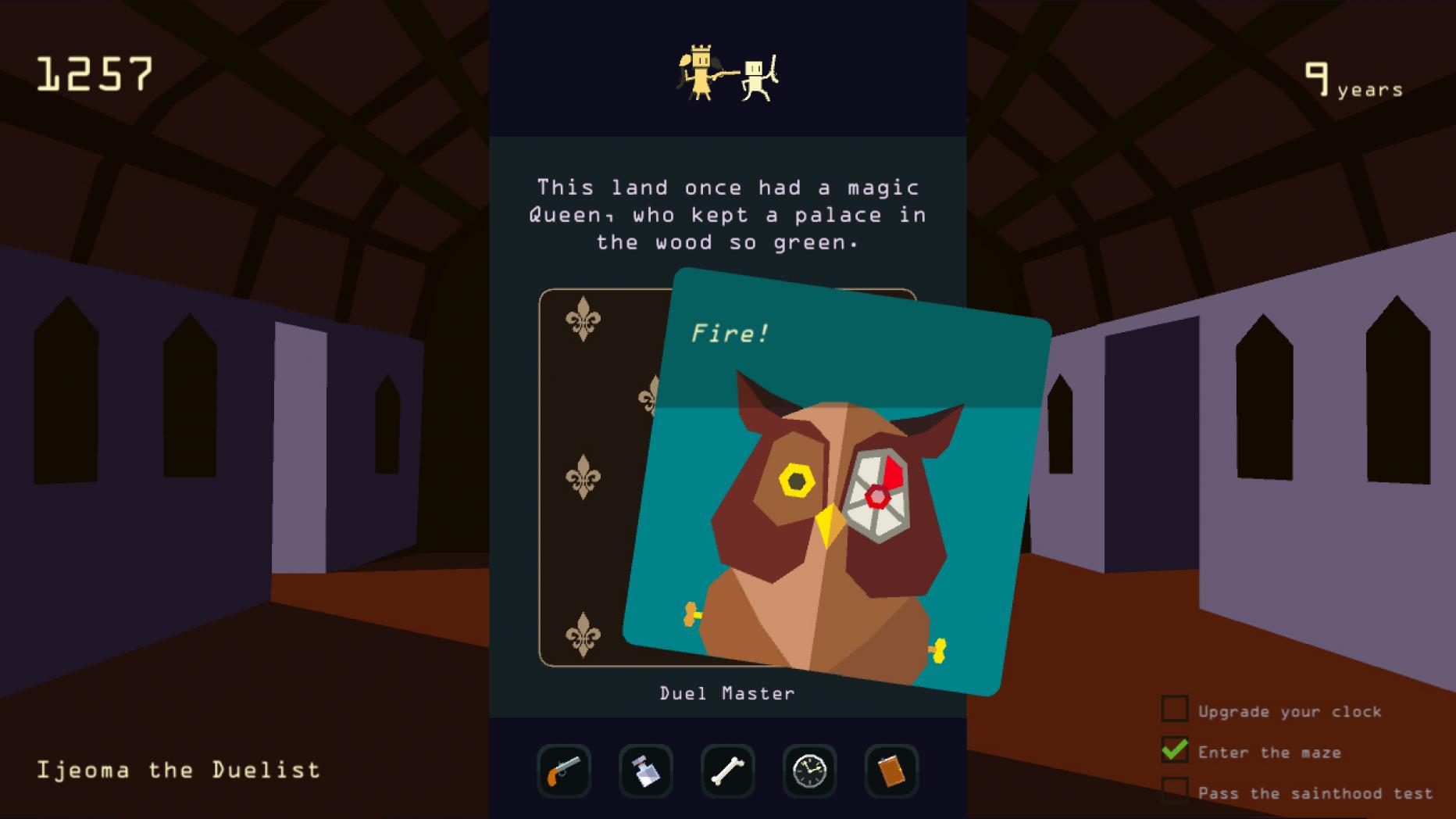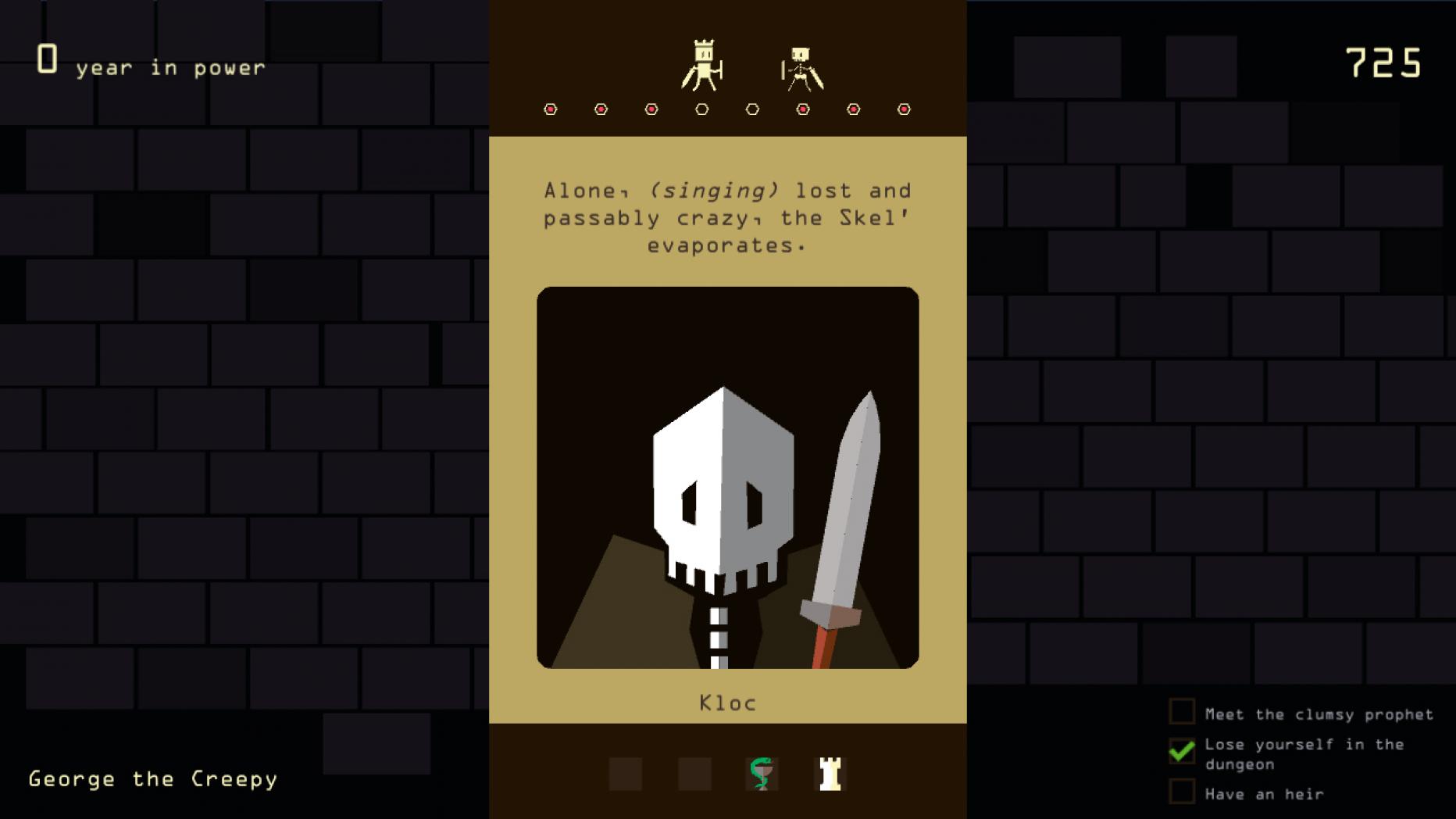 Left or right?
In the course of a reign countless requests and demands are made to you by (sometimes very questionable) advisors, subjects, allies or enemies, and you decide between the two given possibilities by simply wiping your fingers to the left or right. Among them are such simple wishes as to open the granary to the people after a hard winter or to erect a new building for the church, but also momentous decisions, such as a declaration of war to the neighboring state. In addition, there are requests from various personalities who do not have a direct effect on the kingdom, but tell something like a little story. These include encounters with vampires, intrigues and even the devil visits the ruler. Some of the decisions are not limited to the current regency, but extend over several dynasties. So it can happen that the effects of a certain procedure become clear only years later or certain characters appear again and react according to the action of a king. The gameplay is then supplemented by various items and pre-set goals, which however have only minimal gameplay effects.
In terms of appearance, the game presents itself as a typical mobile game with its puristic, but consistently appealing graphic style. There is no voice output, but all text has been translated into German. The background music comes from the American composer Richard Vreeland, better known under his stage name Disasterpeace. Among other things he is responsible for the soundtracks of games like Hyper Light Drifter or FEZ and has also done a good job at Reigns. Unfortunately it's much too rare to hear this one, because most of the time the game is accompanied by some brabble noises and other sound effects, which gets a little annoying in the long run.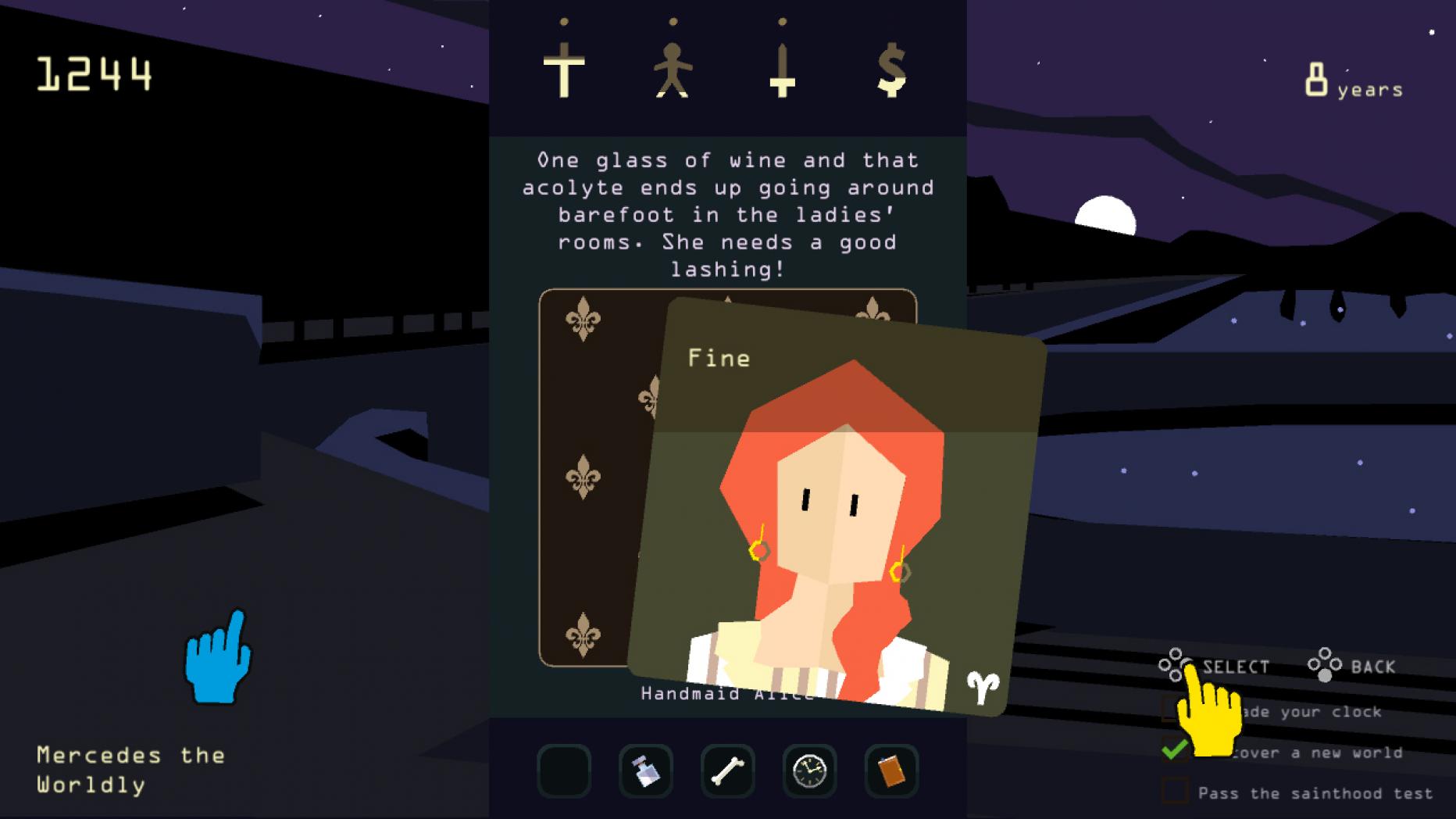 multiplayer mode in- and exclusive
The Nintendo Switch version has two special features. On the one hand there are two games at once: The bundle contains Reigns as well as the quasi successor Her Majesty. But you shouldn't expect too many differences, because in principle the two titles are one and the same game, only that you slip into the role of the kings in the first one and those of the female counterparts in the other one – hence the subtitle Kings & Queens. In addition, there is now a local multiplayer mode for two players. Here everyone grabs one of the two Joy-Cons and tries (ideally) to make the decisions in a common consensus. If this is not possible with verbal arguments, then one may try to influence the outcome of the choice by means of button-mashing. Well intentioned, but playful, this multiplayer version is worthless. On the one hand, the possible options with regard to the constant equilibrium of the four different areas are anyway severely limited, on the other hand, there are more amusing options than reading the dialogues together, some of which are very extensive.
CONCLUSION
In short: Reigns provides entertaining entertainment in the mobile phone version, but the gameplay designed for shorter game sessions simply doesn't work on the Nintendo Switch console. After about 30 minutes the air is outside and, unlike on the mobile phone, there is a lack of motivation to restart the game for a few more regents. Reigns: Kings & Queens offers a humorous and fascinating, narrative gaming experience, but in the long run it simply lacks variety. My recommendation: Interested people should try Reigns first on iOS or Android devices, because there it is not only more fun, but is also available at a lower purchase price.
What is Reigns: Kings & Queens? Monarch simulation in Tinder Swipe style.
Platforms
: Nintendo Switch, iOS, Android
Tested
: Nintendo Switch
Developer / Publisher
: Nerial / Devolver Digital
Release
: September 20, 2018
Link
:
Official Website