1.15 million Litecoin moved at a value of 61 million U.S. dollars
The Litecoin network saw a major transaction last week, making a new Segwit-M address the richest Litecoin address in the network. Due to the low transaction fees within the ecosystem, the transfer could be made for less than a dollar.
The network's blog states that an enormously large transaction with a total of 1.15 million LTC for a total value of over 60 million US dollars was moved at transaction costs of 0.5 US dollars. The credit was transferred from some older addresses to the new Multi-Signature or Segwit-M address. The largest transfer to date was 1.139 million Litecoin to new Litecoin Wallet addresses.
The 1M+ Litecoin Transaction valued at $62M sent for just 50¢ #Litecoin #Bitcoinhttps://t.co/UrQ6LyGJeg
– Litecoin.com (@LitecoinDotCom) November 9, 2018
Older addresses differed in SegWit addresses in terms of transaction speed and security. A SegWit transaction offers a cheaper transaction fee and also allows more transactions per block, allowing faster transactions.
Also, the transaction has been patched so that the transaction ID can be changed before it is finally confirmed. In this way, network users can pretend that the transaction was not executed, even if all conditions are met. The transfer of Litecoin took place in several smaller transactions of LTC 20,000.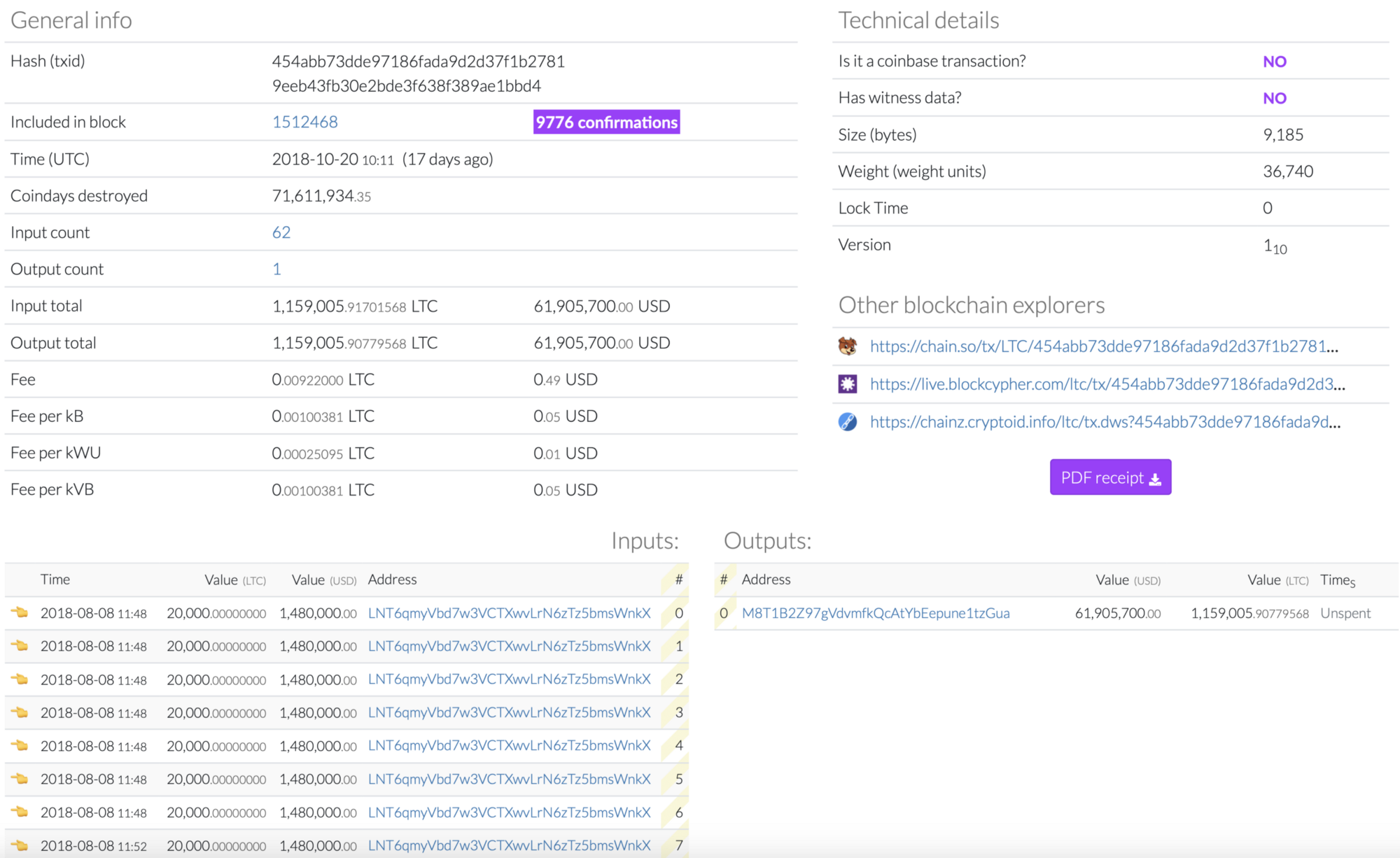 Source: https://blockchair.com/litecoin/transaction/454abb73dde97186fada9d2d37f1b27819eeb43fb30e2bde3f638f389ae1bbd4
It is not yet known who has made these transactions, but it is likely that an Exchange has moved its Litecoin credit to a cold wallet in order to park the enormous amount in a safe place. The switch to a multi-signature wallet offers greater security, as several parties must agree to new transactions before they can be executed.
Although this transaction is not the first of its size, it shows the advantages in terms of transaction speed and fees over traditional financial systems.